The median price of the 6,000 plus Single Family Homes (SFH) sold in the 34 cities and towns of Essex County in 2017 increased by $31,000, or 7.6%, to a new record $440,000 compared with 2016. While the overall market reached a new high, in 14 of the towns the median price is still below the prior peak level.
This report lists the prices in four ways: alphabetically by town; by price highest to lowest; by the increase in 2017 over 2016; and by the increase in 2017 compared with 2013.
I also show sales for the last two years, because the greater the number of sales the more reliable the median price as a gauge of the market. Record price levels are shown in bold. If no figure in bold is shown in the table that means that the peak for that town was achieved in the 2005/06 period.

Median price alphabetically (click here to download a pdf of this table).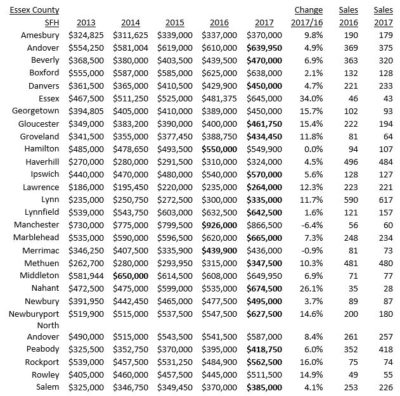 Median price highest to lowest (click here to download a pdf of this table)
The calculation for the median price for Essex County considers all 6,000 plus sales in one bucket and produces a median price of $440,000. But if one looks at the sales by town, the median price jumps to $520,750. The reason for this difference is that several of the towns with the highest number of sales have the lowest median prices.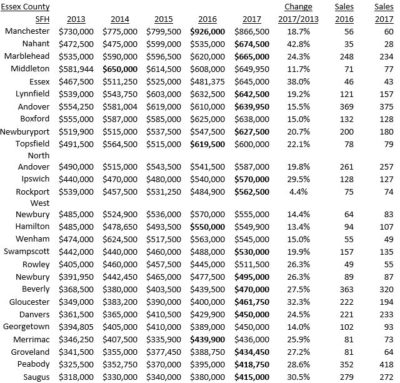 2017 compared with 2016 (Click here to download a pdf pf this table)
12 towns saw a double digit increases in 2017, although the largest increases occurred in markets with a small number of sales.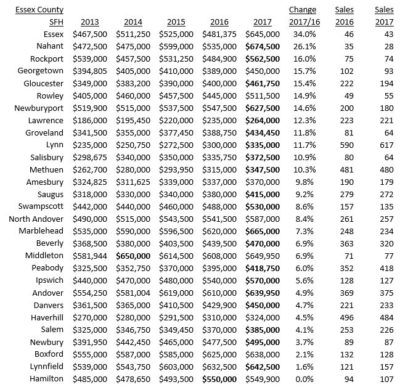 2017 compared with 2013(click here to download a pdf of this table)
The median price in Essex County has increased by 19.2% since 2013, with 14 towns showing gains of more than 25%.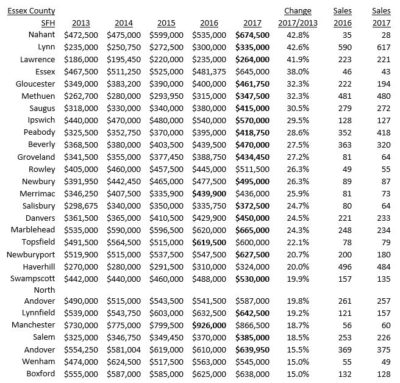 Comment
2017 was a strong year for property prices in Essex County. As always, there were variations from town to town, but overall demand exceeded supply and supply was generally very low, except at the higher end of the price range.
2018 starts with uncertainty over the impact of the tax changes as far as the limitation on the ability to deduct State and property taxes. This, however, will not impact the lower price levels, where a growing economy and rising demand will once again run into a shortage of supply.
At the higher end, where supply remains adequate, lower personal and corporate taxes and a booming stock market should give buyers the wherewithal to step up and take advantage of attractive prices.
If you – or somebody you know – are considering buying or selling a home and have questions about the market and/or current home prices, please contact Andrew Oliver on 617.834.8205 or Kathleen Murphy on 603.498.6817.
If you are looking to buy, we will contact you immediately when a house that meets your needs is available. In this market you need to have somebody looking after your interests.
Are you thinking about selling? Read  Which broker should I choose to sell my house?
Andrew Oliver and Kathleen Murphy are Realtors with Harborside Sotheby's International Realty. Each Office Is Independently Owned and Operated
@OliverReports