If you bought a house in 2018 the chances are that your mortgage rate is in the range of 4.5 – 5%. For most of 2018 it looked as though rates were headed on an upwards path and buyers had no alternative but to pay the higher rate.
And then rates collapsed, as per the chart below: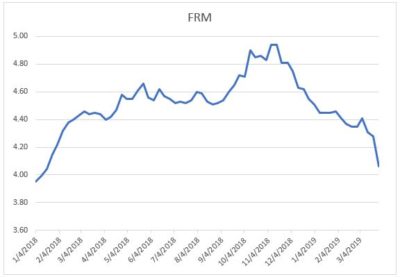 Thus, it is possible to refinance now to a rate of around 4%.
Why have rates dropped?
The background to the link between expectations for the economy and mortgage rates is explained in these recent articles:
Is a recession coming soon?
Why have Mortgage Rates dropped?
Treasury Yield Curve Inverts: what it means for the housing market
Andrew Oliver
Realtor, Sagan Harborside
Sotheby's International Realty
www.andrewJoliver.com
www.OliverReports.com
Tel: 617.834.8205
Sotheby's International Realty® is a registered trademark licensed to Sotheby's International Realty Affiliates LLC. Each Office Is Independently Owned and Operated