Mortgage Rates
The national 30 year Fixed Rate Mortgage (FRM), as reported by Freddie Mac, was 4.06%, down a fraction from 4.07% the previous week. We are in contact with a lender who is offering 30 year FRMs with zero points at just under 4%, with 15 year mortgages at 3.5%. These rates are valid for loans up to $2 million.
The chart below shows the FRM since the beginning of 2018 and demonstrates that mortgage rates have declined from almost 5% in late 2018 to the same level as at the start of 2018.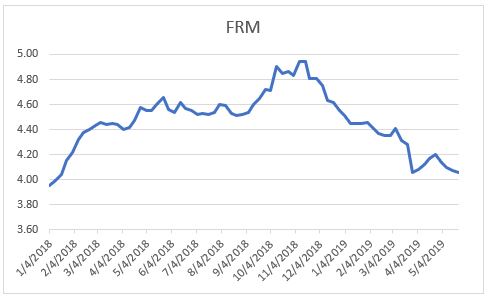 Existing home sales
Total existing-home sales – completed transactions that include single-family homes, townhomes, condominiums and co-ops – fell 0.4% from March to a seasonally adjusted annual rate (SAAR) of 5.19 million in April. Total sales are down 4.4% from a year ago (5.43 million in April 2018). The SAAR has been mostly in the range of 5 – 5.5 million for the last few years.
The median existing single-family home price was $269,300 in April, up 3.7% from April 2018.
Total housing inventory at the end of April increased to 1.83 million, up from 1.67 million existing homes available for sale in March and a 1.7% increase from 1.80 million a year ago. Unsold inventory is at a 4.2-month supply at the current sales pace, up from 3.8 months in March and up from 4.0 months in April 2018.
Here is a set of 8 slides with highlights from this month's report: Existing home sales in April.
New Home Sales
New home sales for April were reported at 673,000 on a seasonally adjusted annual rate basis (SAAR). Sales for March were revised up to 723,000, a new high for this cycle. Sales in January and February were also revised up.
Sales of new homes are notoriously volatile and subject to significant revisions but according to Bill McBride of Calculated Risk "New Home Sales appears to be an excellent leading indicator, and currently new home sales (and housing starts) are up solidly year-over-year, and this suggests there is no recession in sight."
The supply of new homes was 5.9 months, close to the 6 months which is regarded as being a market in equilibrium between buyers and sellers.
Here is the full New residential Sales April 2019 report.
Andrew Oliver
Market Analyst | Team Harborside | teamharborside.com
REALTOR®
Sagan Harborside Sotheby's International Realty
One Essex Street | Marblehead, MA 01945
m 617.834.8205
www.OliverReports.com
www.TeamHarborside.com
Andrew.Oliver@SothebysRealty.com
Sotheby's International Realty® is a registered trademark licensed to Sotheby's International Realty Affiliates LLC. Each Office Is Independently Owned and Operated