2020: The Top End comes Roaring Back
One of the surprise of the last 2-3 years – to me at least – has been that there has not been more activity in the top end of the market, even as activity increased at lower levels. But that changed in 2020.
Let's look at sales by price point:
The number of sales over $1 million increased 39% from 353 to 489: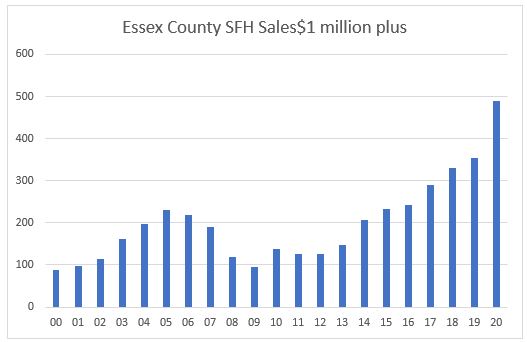 The number of sales over $2 million increased to 60 compared with the prior high of 51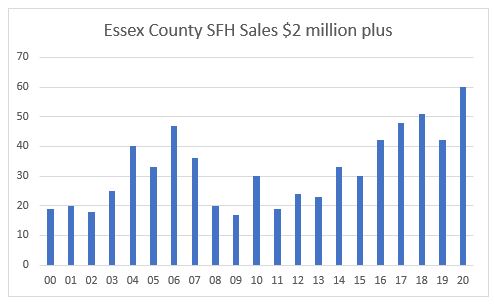 Sales over $3 million doubled from 10 in 2019 to 21 in 2021, passing the prior peak of 18 in 2007: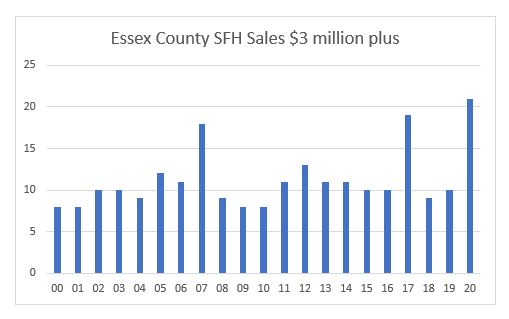 And there was a rebound in sales over $4 million to 12, also passing the prior 2007 peak of 11.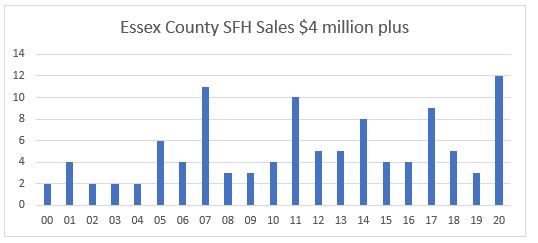 These charts support what one would normally expect in a rising market – an increase in top-end sales. It took a COVID-inspired exodus from cities to achieve it on this occasion.
Mortgage Rates are Rising
How Marblehead's 2021 Property Tax Rate is Calculated
Essex County 2021 Residential Property Tax Rates: a Town by Town guide
Conforming Mortgage Loan Limits raised for 2021
Andrew Oliver
Market Analyst | Team Harborside | teamharborside.com
REALTOR®
Sagan Harborside Sotheby's International Realty
One Essex Street | Marblehead, MA 01945
m 617.834.8205
www.OliverReportsMA.com
Andrew.Oliver@SothebysRealty.com
Sotheby's International Realty® is a registered trademark licensed to Sotheby's International Realty Affiliates LLC. Each Office Is Independently Owned and Operated
Andrew Oliver
Sales Associate | Market Analyst | DomainRealty.com
REALTOR®
Naples, Bonita Springs and Fort Myers
Andrew.Oliver@DomainRealtySales.com
m. 617.834.8205
www.AndrewOliverRealtor.com
www.MarbleheadSouth.com
"If you're interested in Marblehead, you have to visit the blog of Mr. Andrew Oliver, author and curator of OliverReports.com. He's assembled the most comprehensive analysis of Essex County we know of with market data and trends going back decades. It's a great starting point for those looking in the towns of Marblehead, Salem, Beverly, Lynn and Swampscott."