Three weeks ago I published Coronavirus and the housing market concluding with this comment: While it is too early to forecast the impact of the coronavirus, world stock markets this week suggest that investors believe it will be limited beyond the short term. And meanwhile, ultra low mortgage rates only exacerbate the impact of the extreme low level of supply in the housing market.
Well that changed this week!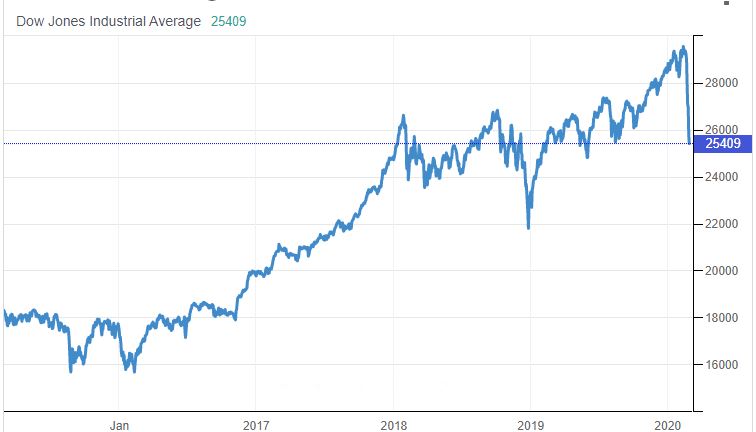 It is worth remembering that for some time commentators have been observing that the stock market was at extended valuations but that nobody wanted to sell, so maybe coronavirus was the excuse for the "overdue" stock market correction to occur.
Which is not to underestimate the significance of the crisis as it seems likely to impact everything from air travel and tourism to concert attendance; from manufacturing supply lines to decisions about future supply markets. At this stage, we simply do not know.
The most important factor for both the economy and the housing market is consumer confidence. The University of Michigan survey of Consumer Sentiment for February edged up 1.2 points to 101.0, the highest level since March 2018. The accompanying commentary said:"The coronavirus was mentioned by 8% of all consumers in February when describing the reasons for their economic expectations. However, on Monday and Tuesday of this week—the last days of the February survey—20% mentioned the coronavirus due to the steep drop in equity prices as well as the CDC warnings about the potential threat of the virus."
What we do know is that mortgage rates have dropped even further. The Freddie Mac weekly survey published on Thursday showed the national average 30-year Fired Rate Mortgage at 3.45% and that rate seems likely to drop further next week.
The US economy continues to show steady, if unspectacular grow. Provided coronavirus just delays economic activity, that will continue to be the story. A longer slowdown may well lead the world into a recession but it really is too early to tell.
Meanwhile the story of recent years continues to apply: Record low inventory + record low mortgage rates + strong demand = rising home prices.
Will house prices continue to rise in 2020?
Are You Thinking of Selling in 2020?
Swampscott: now is a GREAT time to sell
Andrew Oliver
Market Analyst | Team Harborside | teamharborside.com
REALTOR®
Sagan Harborside Sotheby's International Realty
One Essex Street | Marblehead, MA 01945
m 617.834.8205
www.OliverReports.com
Andrew.Oliver@SothebysRealty.com
Sotheby's International Realty® is a registered trademark licensed to Sotheby's International Realty Affiliates LLC. Each Office Is Independently Owned and Operated