The number of Accepted Offers (AO) for SFHs received in Essex County has continued to recover from the COVID-19 lows of April.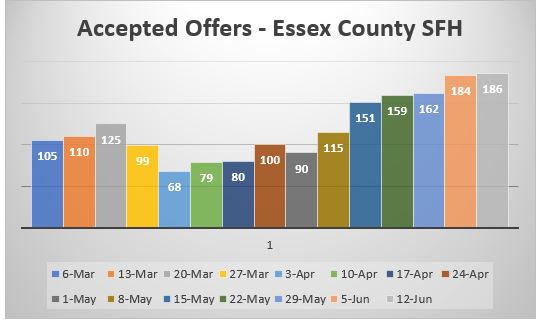 This is the chart I post each week showing the weekly numbers compared with 2019. Note that Holy Week was week 14 in 2020 and week 16 in 2019. To make it easier to read I have started the chart at week 9 (March 6, 2020; March 8, 2019):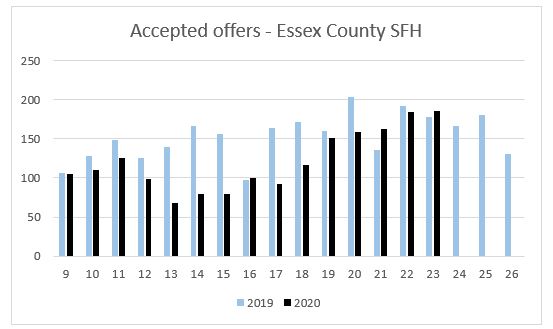 And this is the percentage change compared with the same week in 2019.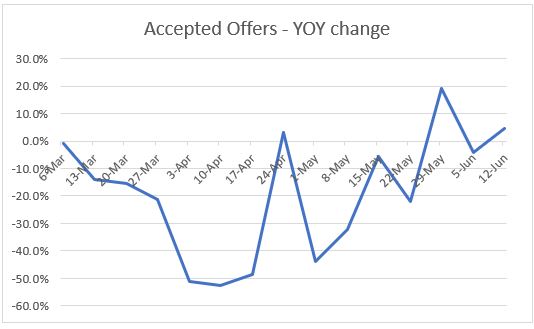 The spike in week 16 ( April 24) was a result of the timing of Holy Week, while the increase in week 21 (May 29) compared with a strangely low number in 2019. More relevantly, the improving trend is clear. A better indicator is that the average of the last 5 weeks of 168 is just 3% lower than the 174 in 2019.
And… look at this table: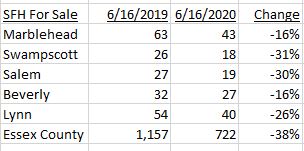 Inventory is has been running 30-40% below last year's numbers all year – yet the number of Accepted Offers recently has been quite close to last year's levels,
Comment
The real estate industry – professionals involved in transactions, as well as buyer and sellers – has adapted to the COVID-19 world. Buyers are out there, inventory remains low (read Inventory plummets while demand increases) and bidding wars are back in earnest. In fact, with inventory down nearly 40% YOY it is clear that properties are now selling more quickly than they were a year ago.
Thus buyers need to have all their ducks in a row – most importantly, a current pre-approval letter or proof of funds – before making an offer.
Also, bear in mind that some sellers – a diminishing number as confidence in the measures now in place for viewing become established- are requesting that their properties not be listed in MLS, so if you are checking on Zillow you might not be seeing all that is available.: you need to speak to a real estate agent.
Goodbye Boston, Hello Marblehead
Mortgage rates are rising – and that's good news
"If you're interested in Marblehead, you have to visit the blog of Mr. Andrew Oliver, author and curator of OliverReports.com. He's assembled the most comprehensive analysis of Essex County we know of with market data and trends going back decades. It's a great starting point for those looking in the towns of Marblehead, Sale, Beverly, Lynn and Swampscott."
Andrew Oliver
Market Analyst | Team Harborside | teamharborside.com
REALTOR®
Sagan Harborside Sotheby's International Realty
One Essex Street | Marblehead, MA 01945
m 617.834.8205
www.OliverReports.com
Andrew.Oliver@SothebysRealty.com
Sotheby's International Realty® is a registered trademark licensed to Sotheby's International Realty Affiliates LLC. Each Office Is Independently Owned and Operated