Millions of U.S. workers retired during the pandemic. Now many are returning to work at rates not seen since 2020.
Tom Brady, it turns out, has good company in reconsidering hanging up the proverbial cleats: In February, the share of retired workers re-entering the workforce climbed to around 3% of total retirees, its highest level since early March 2020, according to an Indeed analysis of federal labor data.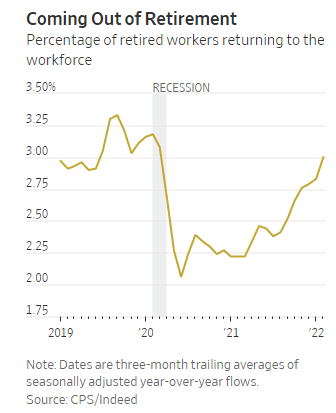 Many are people under the official retirement age who, spurred by rising asset values or Covid-19 worries, left the workforce ahead of schedule, labor economists say. Roughly 2.6 million Americans retired earlier than expected between February 2020 and October 2021, according to estimates from Federal Reserve Bank of St. Louis senior economist Miguel Faria-e-Castro.
Others now quitting early retirement realize they weren't as financially prepared to live without a steady paycheck as they hoped. Um, I am not sure that is why Brady is unretiring…… (more…)