Fannie Mae and Freddie Mac are restricted by law to purchasing single-family mortgages with origination balances below a specific amount, known as the "conforming loan limit" (CLL) value. Loans above this amount are known as jumbo loans.
Essex County is considered a high-cost area, and limits are higher than the base level set by the FHFA. For 2024, the CLL is $766,550 and for Essex County the limit is $862,500,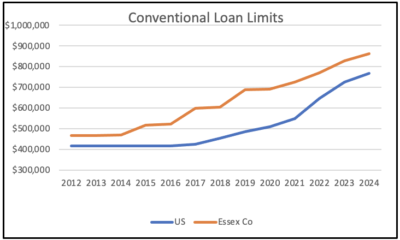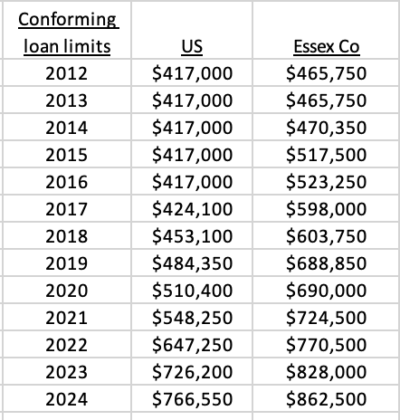 Which means that, with a 20% down payment, a property in a standard area costing just over $950,000 can be purchased with a conventional mortgage, and in Essex County that rises to well over $1 million.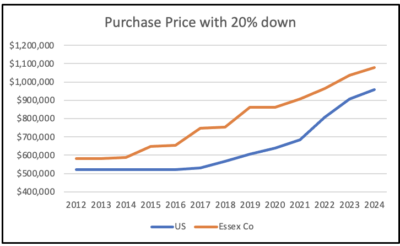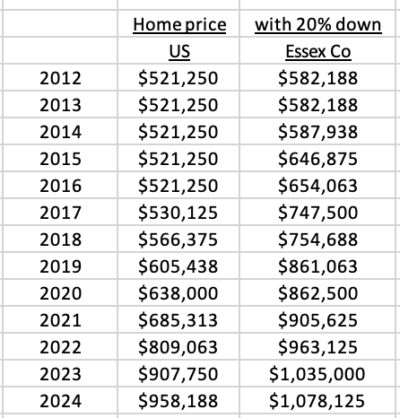 And these recent articles:
Why Mortgage Rates will fall in 2024
Conventional Mortgage Loan Limits increased for 2024
INFLATION and RECESSION UPDATE
Most Sales Still Over List Price
Core Inflation Prices Barely Budged in August
MARBLEHEAD Q3 MARKET REPORT 2019-2023
SWAMPSCOTT Q3 MARKET REPORT 2019-2023 SALEM Q3 MARKET REPORT 2019-2023
ESSEX COUNTY Q3 2023 MARKET REPORT
(more…)