Accepted Offers jump to 2020 high
The number of Accepted Offers (AO) for SFHs received in Essex County in the latest week jumped sharply to 151, compared with the prior high for 2020 in March of 125 and more than double the number of early April.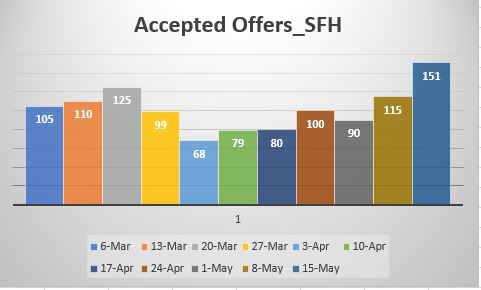 This is the chart I post each week showing the weekly numbers compared with 2019. Note that Holy Week was week 14 in 2020 and week 16 in 2019: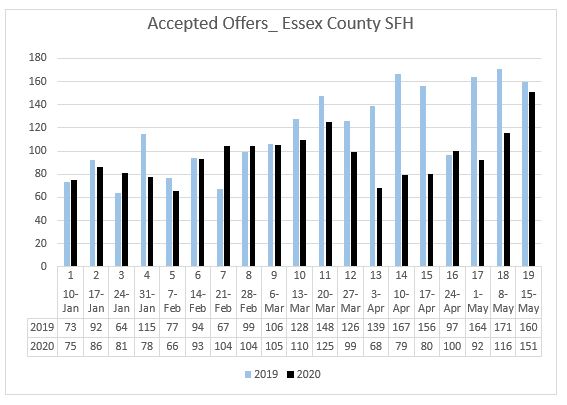 And this is the percentage change compared with the same week in 2019.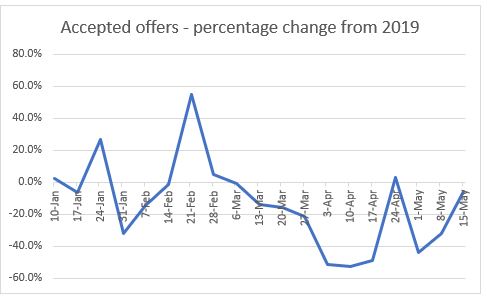 Ignoring the spike in week 16 as a result of the timing of Holy Week, the trend is clear as the percentage decline has slowed from around 50% to under 10%.
Comment
The real estate industry – professionals involved in transactions, as well as buyer and sellers – has adapted to the COVID-19 world. Buyers are out there, inventory remains low and bidding wars are back.
Also, bear in mind that some sellers are requesting that their properties not be listed in MLS, so if you are checking on Zillow you might not be seeing all that is available.: you need to speak to a real estate agent.
*Numbers in this report were updated on May 20
Andrew Oliver
Market Analyst | Team Harborside | teamharborside.com
REALTOR®
Sagan Harborside Sotheby's International Realty
One Essex Street | Marblehead, MA 01945
m 617.834.8205
www.OliverReports.com
Andrew.Oliver@SothebysRealty.com
Sotheby's International Realty® is a registered trademark licensed to Sotheby's International Realty Affiliates LLC. Each Office Is Independently Owned and Operated