Conforming Mortgage Limits raised for 2020
The Federal Housing Finance Agency (FHFA) has announced the maximum conforming loan limits for mortgages to be acquired by Fannie Mae and Freddie Mac in 2020. In most of the U.S., the 2020 maximum conforming loan limit for one-unit properties will be $510,400, an increase from $484,350 in 2019.
Essex County
The first table shows the limit both nationally and in Essex County in recent years, as well as the maximum home price that would qualify for a conforming loan. Since 2012 the limit has increased 22% nationally and 48% in Essex County.
Massachusestts
The second table shows the 2020 limits for each County in Massachusetts for 1,2,3, and 4-unit properties.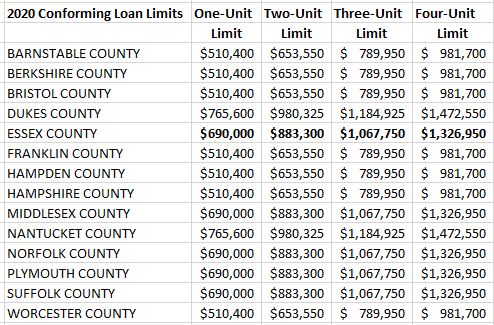 How is the limit calculated?
The Housing and Economic Recovery Act (HERA) requires that the baseline conforming loan limit be adjusted each year for Fannie Mae and Freddie Mac to reflect the change in the average U.S. home price. According to FHFA's seasonally adjusted, expanded-data HPI, house prices increased 5.38 percent, on average, between the third quarters of 2018 and 2019. Therefore, the baseline maximum conforming loan limit in 2020 will increase by the same percentage.
High cost areas
For areas in which 115 percent of the local median home value exceeds the baseline conforming loan limit, the maximum loan limit will be higher than the baseline loan limit. HERA establishes the maximum loan limit in those areas as a multiple of the area median home value, while setting a "ceiling" on that limit of 150 percent of the baseline loan limit. Median home values generally increased in high-cost areas in 2019, driving up the maximum loan limits in many areas. The new ceiling loan limit for one-unit properties in most high-cost areas will be $765,600 — or 150 percent of $510,400.
As shown in the table above in Essex County the ceiling for 2020 is $690,000.
Conventional vs Conforming
A conventional mortgage is any type of home buyer's loan that is not offered or secured by a government entity, such as the Federal Housing Administration (FHA), the U.S. Department of Veterans Affairs (VA), or the USDA Rural Housing Service, but instead is available through or guaranteed by a private lender (banks, credit unions, mortgage companies) or the two government-sponsored enterprises, the Federal National Mortgage Association (Fannie Mae) and the Federal Home Loan Mortgage Corporation (Freddie Mac).
A conforming mortgage is one whose underlying terms and conditions meet the funding criteria of Fannie Mae and Freddie Mac. Chief among those is a dollar limit, set annually by the Federal Housing Finance Agency (FHFA)
Andrew Oliver
Market Analyst | Team Harborside | teamharborside.com
REALTOR®
Sagan Harborside Sotheby's International Realty
One Essex Street | Marblehead, MA 01945
m 617.834.8205
www.OliverReports.com
www.TeamHarborside.com
Andrew.Oliver@SothebysRealty.com
Sotheby's International Realty® is a registered trademark licensed to Sotheby's International Realty Affiliates LLC. Each Office Is Independently Owned and Operated