Essex County 2019 median home prices: a Town by Town guide
here
to download the table listing towns in alphabetical order, and
here
to download the table showing towns from highest to lowest median price.]
Overall, in the 34 cities and towns of Essex County, the median Single Family Home (SFH) price increased 3.9% to $475,000 in 2019, while sales were up 2.7%. Both were new record highs.
The table below shows the median price for each town for the last 3 years, with the percentage change in 2019. It also compares sales for the last two years.
Note that a small number of sales can lead to price fluctuations. In general, the larger the number of sales, the more reliable is the median price.
While the overall median price in Essex County was $475,000, only 12 of the 34 cities and towns had median prices below this level, while 22 had median prices above $475,000. The reason for this is that the median price for the the County is calculated by taking all 6,000 plus individual property sales, and many of the towns with a large number of sales are in communities with lower prices.
Calculating the median price for Essex County using towns – i.e. the median price of 34 numbers – rather than individual sales produces a median price of $584,500.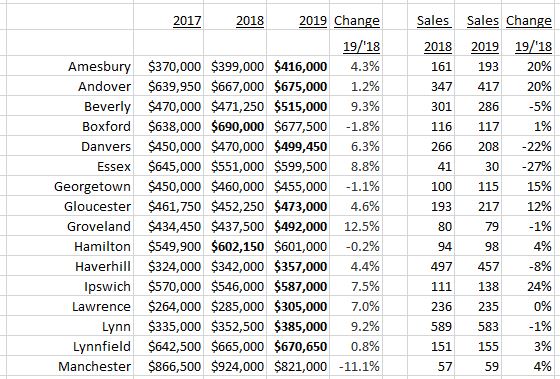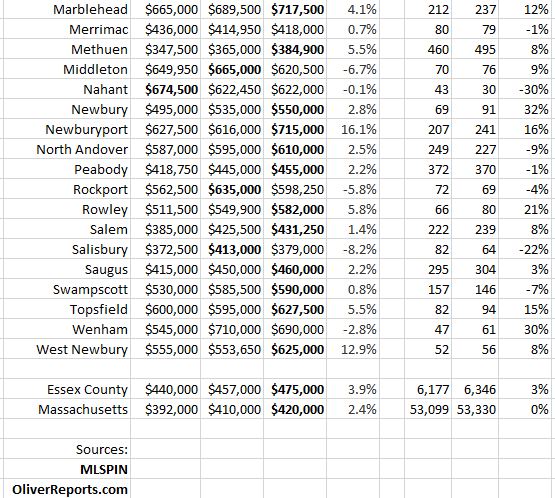 Andrew Oliver
Market Analyst | Team Harborside | teamharborside.com
REALTOR®
Sagan Harborside Sotheby's International Realty
One Essex Street | Marblehead, MA 01945
m 617.834.8205
www.OliverReports.com
www.TeamHarborside.com
Andrew.Oliver@SothebysRealty.com
Sotheby's International Realty® is a registered trademark licensed to Sotheby's International Realty Affiliates LLC. Each Office Is Independently Owned and Operated
[Click