How much does it cost to live in each town in Essex County?
This chart shows the median price of the Single Family Homes sold in each of the 34 cities and towns in Essex County in the first 8 months of 2021, together with Condo prices overall in Essex County, Boston and Massachusetts. Read my comments below the chart: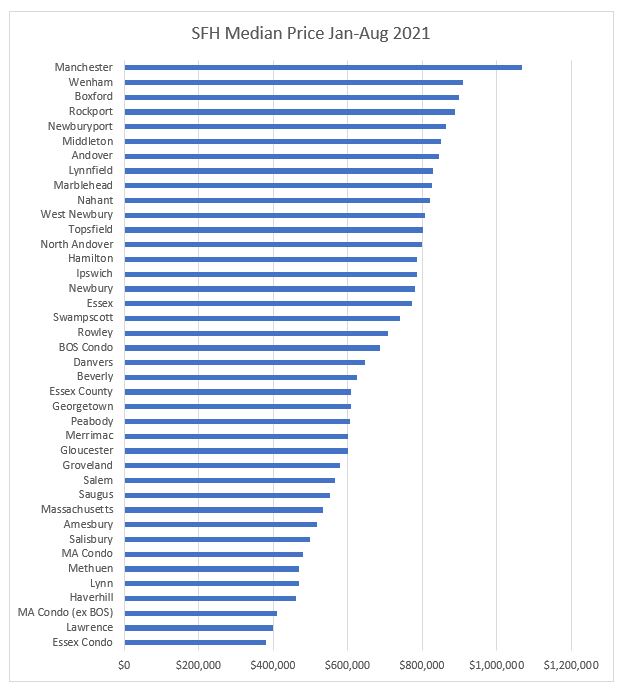 With the strength of the market over the last year or so, it is important to understand that properties are available at a wide range of prices in Essex County.
Over the years I have said to my sons that sometimes you know where you are going and it is like sailing with a tailwind – and sometimes you have to tack. Maybe right now you can't afford Marblehead, but you can afford Salem and in a few years, as your circumstances improve, you may be able to afford Marblehead. So you tack.
The other thing – and I think this is really important – is the understand what the median price means. Let's take Marblehead as an example. The median price YTD is $821,500 on 142 sales. That does NOT mean that you have to pay $821,500 to live in Marblehead. What it DOES mean is that, while there were more than 70 houses which sold for more than $821,500, there were also more than 70 houses that sold for LESS than $821,500.
I have mentioned Salem, but Beverly is another dynamic and vibrant town. The median price of 196 sales was $625,000 YTD, so again there were over 90 sales BELOW $625,000.
Yes, inventory remains in short supply, but widening the search may just provide a solution. And I do have market reports available for each of the 34 cities and towns so please reach out to me to receive a copy of any ones in which you are interested.
The Facts about Inventory and Home Prices
And read these recent articles:
Team Harborside recognized on America's Best Real Estate Professionals list
Are mortgage rates heading up or down?
Essex County 2021 Residential Property Tax Rates: a Town by Town guide
Naples August Housing Market Review
If you – or somebody you know – are considering buying or selling a home and have questions about the market and/or current home prices, please contact me on 617.834.8205 or Andrew.Oliver@SothebysRealty.com.
"If you're interested in Marblehead, you have to visit the blog of Mr. Andrew Oliver, author and curator of Oliver Reports . He's assembled the most comprehensive analysis of Essex County we know of with market data and trends going back decades. It's a great starting point for those looking in the towns of Marblehead, Sale, Beverly, Lynn and Swampscott."
Andrew Oliver
Market Analyst | Team Harborside | teamharborside.com
REALTOR®
Sagan Harborside Sotheby's International Realty
One Essex Street | Marblehead, MA 01945
m 617.834.8205
www.OliverReportsMA.com
Andrew.Oliver@SothebysRealty.com
Sotheby's International Realty® is a registered trademark licensed to Sotheby's International Realty Affiliates LLC. Each Office Is Independently Owned and Operated
Andrew Oliver
Sales Associate | Market Analyst | DomainRealty.com
REALTOR®
Naples, Bonita Springs and Fort Myers
Andrew.Oliver@DomainRealtySales.com
m. 617.834.8205
www.MarbleheadSouth.com