Is Inventory picking up at last?
There have been reports – including this chart from the Federal Reserve Bank of St. Louis – that housing inventory is finally increasing:

Has Inventory picked up recently in Essex County?
At first blush the answer may appear to be yes – note the sharp increase since the beginning of July:

On further review, however, the mid-month pick up is not a new phenomenon – it happened in both May and June: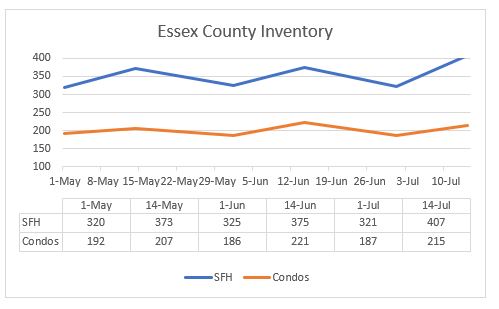 How does inventory compare with 2019?
Comparing current inventory with both 2020 and 2019 shows that while it is down some 30% from 2020, the decline from 2019 is far greater.

Months of supply
The old rule of thumb was that a market in equilibrium between buyers and sellers had 6 months of supply. We have not seen that for many years and currently it is less than 1 month overall: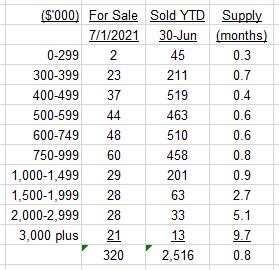 Comment
It is too early to tell whether the opening of the economy will reduce demand from people moving out of cities. Any reduction in demand would be welcome to those who have been frustrated in their attempts to buy over the last year. It is also too early to know if the slight slowdown in activity is a result of buyer fatigue, the opportunity to travel, or a myriad of other possibilities.
What does seem to remain is that when an attractive property does hit the market, there is no shortage of buyers.
Andrew Oliver
Market Analyst | Team Harborside | teamharborside.com
REALTOR®
Sagan Harborside Sotheby's International Realty
One Essex Street | Marblehead, MA 01945
m 617.834.8205
www.OliverReportsMA.com
Andrew.Oliver@SothebysRealty.com
Sotheby's International Realty® is a registered trademark licensed to Sotheby's International Realty Affiliates LLC. Each Office Is Independently Owned and Operated
"If you're interested in Marblehead, you have to visit the blog of Mr. Andrew Oliver, author and curator of OliverReports.com. He's assembled the most comprehensive analysis of Essex County we know of with market data and trends going back decades. It's a great starting point for those looking in the towns of Marblehead, Salem, Beverly, Lynn and Swampscott."
Andrew Oliver
REALTOR® | Market Analyst | DomainRealty.com
Naples, Bonita Springs and Fort Myers
Andrew.Oliver@DomainRealtySales.com
m. 617.834.8205
www.AndrewOliverRealtor.com
www.OliverReportsFL.com