Marblehead Housing Inventory: no Fall increase
The hoped for pick up in inventory after Labor Day has not occurred, with the number of Single Family Homes (SFH) for sale showing only a very slight increase. The current inventory represents less than 3 months of supply, compared with the generally recognized number of 6 months for a market to be in equilibrium between buyers and sellers.
Here is the overall market, showing a decline of over 40% over the last two years: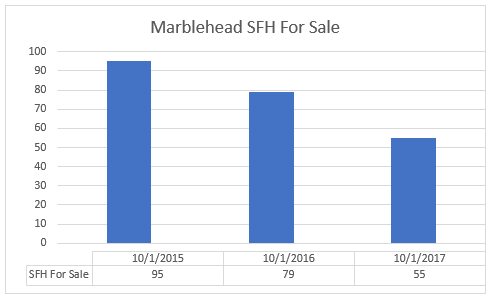 And here is the breakdown by price. The biggest drops have, not surprisingly, come at the lower price points. Overall, the number of houses for sale under $1 million is less than half the number of two years ago. The drop has still been nearly 30% above $1 million.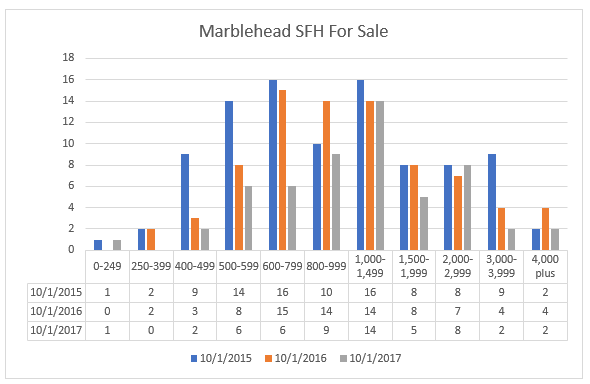 Comment
The story is unchanged: low inventory, strong demand and low mortgage rates. Every real estate agent and mortgage lender has stories of multiple clients wanting to buy but not able to find a house that meets their needs. This in turn creates a situation where sellers are reluctant to list their houses for sale, afraid that they will not be able to find a house to buy. It is hard to see how this deadlock is broken, unless sellers are willing to consider taking the step of selling and being willing to rent somewhere until they find the right house.
If you – or somebody you know – are considering buying or selling a home and have questions about the market and/or current home prices, please contact me on 617.834.8205 or Andrew.Oliver@SothebysRealty.com.
If you are looking to buy, I will contact you immediately when a house that meets your needs is available. In this market you need to have somebody looking after your interests.
Are you thinking about selling? Read  Which broker should I choose to sell my house?
Andrew Oliver is a Realtor with Harborside Sotheby's International Realty. Each Office Is Independently Owned and Operated
@OliverReports