New Listings before July 4
Just a handful of New Listings before the Fourth: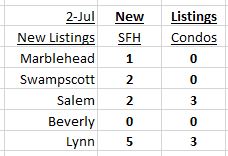 Click on these links for details:
Marblehead New Listings
Swampscott New Listings
Salem New Listings
Beverly New Listings
Lynn New Listings
These tables show that inventory in Essex County overall is about 40% lower than a year ago: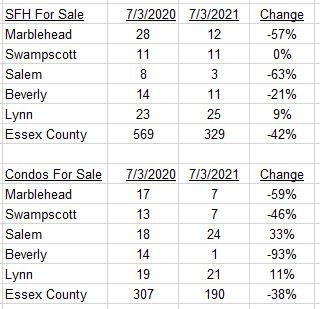 And read these recent articles:
Housing Inventory little changed in July
Team Harborside recognized on America's Best Real Estate Professionals list
June Housing Inventory: same old same old
Are mortgage rates heading up or down?
Essex County 2021 Residential Property Tax Rates: a Town by Town guide
It's 80 degrees in Florida….
If you – or somebody you know – are considering buying or selling a home and have questions about the market and/or current home prices, please contact me on 617.834.8205 or Andrew.Oliver@SothebysRealty.com.
"If you're interested in Marblehead, you have to visit the blog of Mr. Andrew Oliver, author and curator of Oliver Reports . He's assembled the most comprehensive analysis of Essex County we know of with market data and trends going back decades. It's a great starting point for those looking in the towns of Marblehead, Sale, Beverly, Lynn and Swampscott."
Andrew Oliver
Market Analyst | Team Harborside | teamharborside.com
REALTOR®
Sagan Harborside Sotheby's International Realty
One Essex Street | Marblehead, MA 01945
m 617.834.8205
www.OliverReports.com
Andrew.Oliver@SothebysRealty.com
Sotheby's International Realty® is a registered trademark licensed to Sotheby's International Realty Affiliates LLC. Each Office Is Independently Owned and Operated
Andrew Oliver
Sales Associate | Market Analyst | DomainRealty.com
REALTOR®
Naples, Bonita Springs and Fort Myers
Andrew.Oliver@DomainRealtySales.com
m. 617.834.8205
www.AndrewOliverRealtor.com
www.OliverReportsFL.com