Swampscott Q3 2018 Housing Market By The Numbers
[Click here to download a copy of this report.]
The median price of the Single Family Homes (SFH) sold in Swampscott in the first 9 months of 2018 increased 11% to a new record $590,000. Sales recovered somewhat from last year's drop.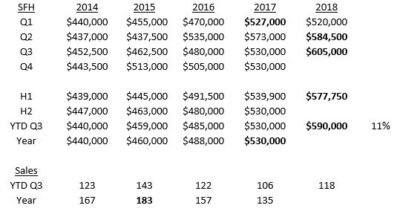 Condos
As reported previously, sales at the new Avery development have had a major impact on the overall median price. YTD there have been 11 sales at Avery between $370,000 and $500,000, adding $27,000 to the YTD overall median price, which increased 19% from 2017.

Sagan Harborside Sotheby's International Realty
www.SaganHarborside.com
Sotheby's International Realty® is a registered trademark licensed to Sotheby's International Realty Affiliates LLC. Each Office Is Independently Owned and Operated