(Click here to download a PDF of this report)
The median price of the Single Family Homes (SFHs) sold in Marblehead in the first half of 2018 increased by 10% from a year ago to $692,500. In 16 of the last 18 years – the exceptions being during the Great Recession in 2010/11 – the median price has been higher in the second half of the year than in the first.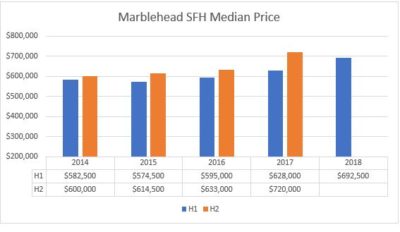 As the chart below shows, prices can and do fluctuate from quarter to quarter, but it is worth noting that only twice in the last 18 years has the highest price for the year been achieved in the first quarter.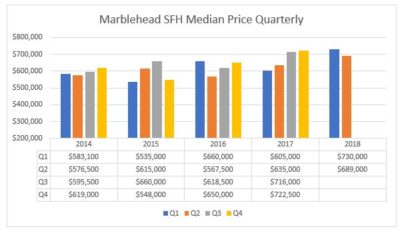 Sales
Sales declined, largely as a result of the shortage of inventory, as demand remained very strong.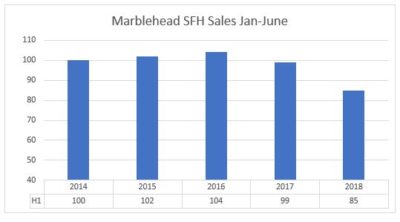 Sales by Price
Just one in 10 sales in the first half of 2018 occurred below $500,000, while just over half the sales took place between $600,000 and $1 million. Sales over $1 million were up sharply from last year, which saw a slow start to such sales.
Of the 85 sales, 25 occurred above the list price while 7 were at list price.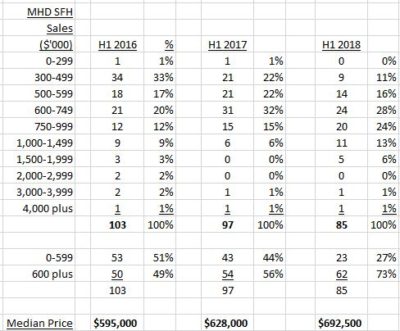 Current Inventory
While inventory has increased somewhat in recent weeks, it is still below the level of prior years and currently there are just 24 houses for sale for under $1 million.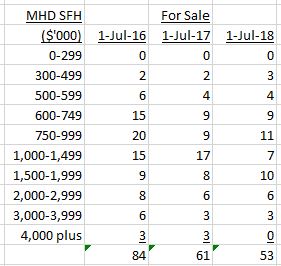 Condos
The condo market in Marblehead is small and varies from old 2-3 family conversions to purpose-built oceanfront units. Those two factors can – and frequently – do cause wide swings in the recorded median price. The larger the sample the more reliable the number (the law of large numbers) so I place some confidence in the half-yearly number and most in the full year's figure. Note also the breakdown in sales by price shown after the pricing information.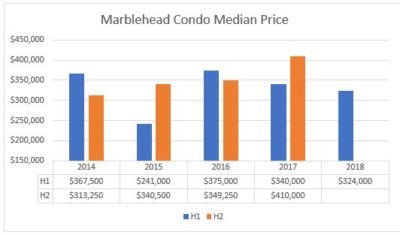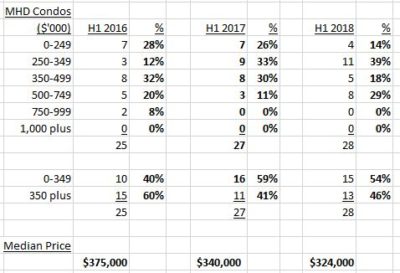 Condos For Sale
As of July 1 there were just 2 condos for sale under $450,000.

Summary
Higher mortgage rates in the first half of 2018 had little or no effect on demand which continued to outstrip supply. With only 12 of 54 SFHs currently for sale and 8 of 17 pending sales having list prices under $700,000, it seems likely that the median price may well exceed $700,000 for the year for the first time.
Sagan Harborside Sotheby's International Realty