The median price of the Single Family homes sold in Salem increased 42% from $431,250 in 2019 to $611,000 in 2022, and eased back to $589,000 YTD Q3 2023. Sales dropped slightly from 2019 to 2022, but fell sharply in 2023, especially in Q3.
The median price of the Condos sold increased by 27% from $355,000 in 2019 to $450,000 in 2022, and further to $485,000 through Q3 2023. Sales started to fall in the second half of 2022 and were also down sharply in 2023.
The many attractions of Salem continue to attract buyers, especially younger buyers moving out of Boston. Perhaps surprisingly in a time when mortgage rates have more than doubled, sales have continued to be brisk, and in most months more than 60% of sales have taken place over list price.
Fluctuations in median prices can and do occur from quarter to quarter, based upon those properties which actually sell in any quarter, which is why the trend is more important than the exact numbers.
If you are thinking of selling, please contact me for a current market analysis for your property.
Go HERE to download a copy of the full report.
This report analyses the Median Price and Sales per quarter since 2019, along with the Sales by Price point, Price per Sq.Ft., and the Days properties were on the market before receiving an offer (DTO).
Median numbers are used in all calculations.
And read these recent articles:
Most Sales Still Over List Price
Core Inflation Prices Barely Budged in August
October Inventory shows Sharp Jump from September</a.
Credit Score Change Could Help Millions of Buyers
August Sales still mostly over List Price
2023 Sales Continue Strongly over List Price (more…)
Through the Third Quarter, the median price of a Single Family House (SFH) in Salem rose 3% to a new high of  $370,000, while that for a condo rose 4% to $280,000, also a new record.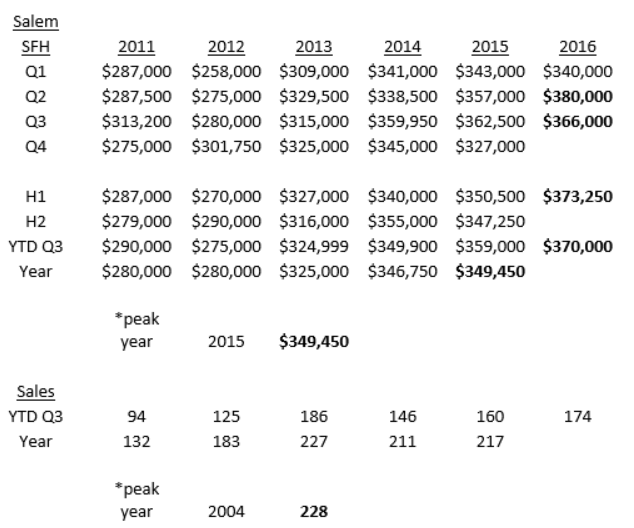 If you are considering selling your home please contact me on 617.834.8205 or Andrew.Oliver@SothebysRealty.com for a free market analysis and explanation of the outstanding marketing program I offer.
Not sure which broker to use to sell your home? Read  Which broker should I choose to sell my house?
If you are looking to buy, I will contact you immediately when a house that meets your needs is available. In this market you need to have somebody looking after your interests.
Andrew Oliver is a Realtor with Harborside Sotheby's International Realty. Each Office Is Independently Owned and Operated
@OliverReports