This Nano house with a living room, kitchen, bathroom, and bedroom, also has four seasons-approved heated floors, an insulated interior, and wooden exterior walls that have been sustainability altered for increased longevity.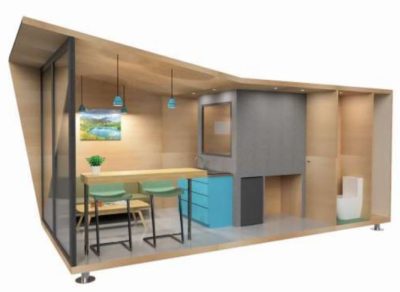 Click photos to see more.
Andrew Oliver
Market Analyst | Team Harborside | teamharborside.com
REALTOR®
Sagan Harborside Sotheby's International Realty
One Essex Street | Marblehead, MA 01945
m 617.834.8205
www.OliverReports.com
Andrew.Oliver@SothebysRealty.com
Sotheby's International Realty® is a registered trademark licensed to Sotheby's International Realty Affiliates LLC. Each Office Is Independently Owned and Operated
As life seems to get more and more connected, allowing less and less time for quiet and reflection, a company named Escape Homes has produced a tiny house with great views for $40,000 (there are also larger models available).
The house is on wheels so you can park it wherever you like.
In the company's words: "Vista is perfect for a guest house, fantastic for AIRBnB or rental space, excellent for weekend getaways to the beach or mountains and just right for that special space of your own to escape the stresses that invade all of our lives."
Read the Escape Vista fact sheet.
If you – or somebody you know – are considering buying or selling a home and have questions about the market and/or current home prices, feel free to contact me on 617.834.8205 or Andrew.Oliver@SothebysRealty.com.
Read
Andrew Oliver is a Realtor with Harborside Sotheby's International Realty. Each Office Is Independently Owned and Operated
You can REGISTER to receive email alerts of new posts on the right hand side of the home page at www.OliverReports.com.
@OliverReports