I am sure I am not alone in expecting that housing inventory would be higher this (early) spring, given the mild winter and continuing low interest rates,but that has not happened. In this post I look at inventory for both Single Family Homes (SFH) and Condos for local towns, Essex County and Massachusetts.
Marblehead, Swampscott, Beverly and Salem
None of these markets has higher inventory than last year – the big snow year, remember? All are sharply down from 2013 and 2014.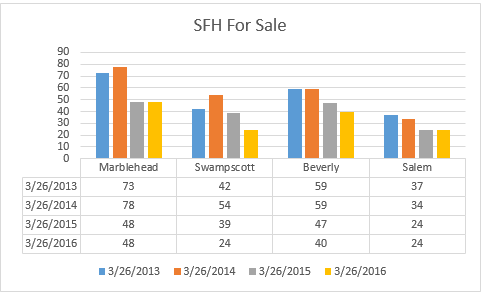 Similar story for condos – look at the drop in Salem.
Essex County and Massachusetts
These don't show well in a chart so here are the numbers, which show a similar, but less pronounced pattern.

Changes in inventory since 2013
The last two charts show the percentage decline in inventory since 2013.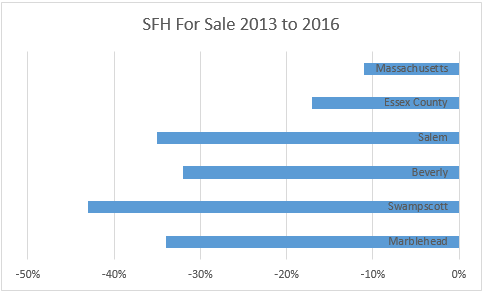 If you – or somebody you know – are considering buying or selling a home and have questions about the market and/or current home prices, feel free to contact me on 617.834.8205 or Andrew.Oliver@SothebysRealty.com.
Read Which broker should list my house for sale?
Andrew Oliver is a Realtor with Harborside Sotheby's International Realty. Each Office Is Independently Owned and Operated
You can REGISTER to receive email alerts of new posts on the right hand side of the home page at www.OliverReports.com.
@OliverReports