Real estate commentary has two parts: data analysis and current market feedback.
The first is definitive: what has actually sold and at what price. The problem is that the sales price is not known until the sale closes – and that is usually about 2 months after the sale is agreed. So by definition, sales data is a rear-view mirror on the market.
Current market feedback is much, much more subjective. When asked "how is the market?", in addition to the tendency for real estate agents to be cheerful and positive and optimistic (you think!) their opinion is also extremely likely to be influenced by their personal experience. Just had a listing get an offer in 24 hours? "The market is great." Listing been on the market for 2 weeks with no offers? "The market has really slowed down."
And then there is seasonality. Traditionally, sales slow after July 4th because parents want to be in place for the next school year, which seems to start earlier and earlier each year.
And slow again after mid-October as people don't want to be moving over the holidays.
And in New England there is that thing called the weather. Snow doesn't put people off, but a howling nor'easter keeps most people – other than those going to the Barnacle to watch the storm – indoors.
So, how is the market?
I think the second quarter this year saw panic buying: we thought we were coming out of the pandemic and that the future looked bright; we had high savings; investment portfolios were buoyant – all contributed to a buying frenzy, which cooled as the summer wore one – well that was the feedback at the time.
While in general I dislike monthly numbers, it is also true that the larger the set of data the more reliable that data is. So here is a chart showing the monthly Single Family Home (SFH) median prices for all 34 cities and towns in Essex County since 2019. The median price reached $652,000 in June and then declined to $600,000 in September and October, seeming therefore to corroborate the feedback.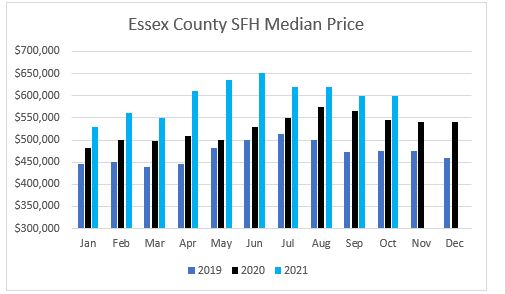 How quickly are houses selling?
If the time it takes for a house to receive an accepted offer (Days to Offer – DTO) moves from say 7 to 9 I do not regard that as significant. What I monitor is the percentage of sales where the DTO is 15 or less. That is somewhat arbitrary but it allows for Open Houses, holidays, weather, multiple offers, etc. In that time period the property has been fully exposed to the market.
First I looked at sales by month – the numbers show the percentage of sales recorded in the month – but agreed some time earlier. The year started slowly after the holidays but the share of accepted offers received in 15 days or less reached 88% in the spring and remained over 80% until dropping to 74% in October and 69% in the first 18 days of November. Interestingly, the share of currently pending sales which received offers in 15 days or less is also 69%.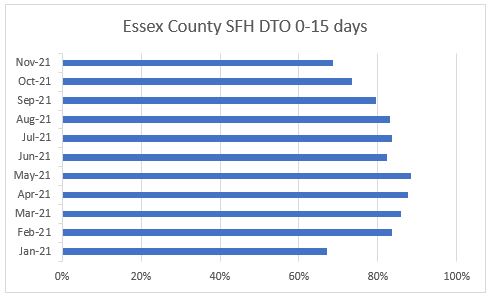 How long have houses been on the market?
This table shows the Days on Market (DOM) of the SFH currently available in Essex County:


6 out of 10 houses have been on the market for more than 15 days. Or just 40% have been on the market for less than 16 days, a much smaller share than for those which have sold. Which might mean that this is an unrepresentative sample, or it might mean that the holiday slowdown has begun….. or it might mean that sales are slowing.
Does List Price matter again?
It seemed for a while earlier this year that the List Price was almost irrelevant, since a swarm of buyers – many bearing cash – pursued whatever was available. But there is evidence that properties that are listed significantly higher than agents recommend (" we can always come down," says the seller) are no longer seeing that fierce demand. And by the time the price reduction comes, the property seems to be stale to the market.
In fact, just as it has always been.
In a recent transaction in which I represented the buyer, the seller insisted on listing at $749,000 despite her agent suggesting $675,000. By the time the seller agreed to drop the price to $675,000, the listing was stale and my buyer bought the house for $619,000. We all felt that had it been listed at a more realistic price it would have sold at a higher price. Not that my buyer complained.
Holidays
The US has opened its borders to (vaccinated) visitors from Europe and elsewhere after being closed for 600 days; Canadians can travel more easily to the US this year; and many people feel they want to celebrate the holidays – including Thanksgiving, Hannukah, Kwanzaa and Christmas – with family. There is a growing concern – and growing evidence – that COVID cases will rise again as people gather, but that fear seems unlikely to keep people home in the way they were forced to a year ago.
The Outlook
One of the top agents on the North Shore said to me recently that in her 35 years in the market she could not remember a time when she felt less confident about where the market was headed. There are so many uncertainties, none of which seems to be putting off investors in the stock market. As for the housing market, mortgage rates remain close to historical lows, as does supply. It seems quite plausible that we are seeing a typical winter slowdown coupled with the desire by millions of people to focus on the holidays.
And read these recent articles:
Marblehead Q3 2021 Market Report
Swampscott Q3 2021 Market Report
Salem Q3 2021 Market Report
Essex County Fall Market Report
Are Mortgage Rates really under 3%?
Essex County 2021 Residential Property Tax Rates: a Town by Town guide
Guide to Buying and Selling in Southwest Florida
Naples Q3 Market Reports
If you – or somebody you know – are considering buying or selling a home and have questions about the market and/or current home prices, please contact me on 617.834.8205 or Andrew.Oliver@SothebysRealty.com.
"If you're interested in Marblehead, you have to visit the blog of Mr. Andrew Oliver, author and curator of Oliver Reports . He's assembled the most comprehensive analysis of Essex County we know of with market data and trends going back decades. It's a great starting point for those looking in the towns of Marblehead, Sale, Beverly, Lynn and Swampscott."
Andrew Oliver
Market Analyst | Team Harborside | teamharborside.com
REALTOR®
Sagan Harborside Sotheby's International Realty
One Essex Street | Marblehead, MA 01945
m 617.834.8205
www.OliverReportsMA.com
Andrew.Oliver@SothebysRealty.com
Sotheby's International Realty® is a registered trademark licensed to Sotheby's International Realty Affiliates LLC. Each Office Is Independently Owned and Operated
Andrew Oliver
Sales Associate | Market Analyst | DomainRealty.com
REALTOR®
Naples, Bonita Springs and Fort Myers
Andrew.Oliver@DomainRealtySales.com
m. 617.834.8205
www.MarbleheadSouth.com