Anecdotally, we have all heard about how prices outside Boston are booming, as people move out of the city, but how much have prices actually gone up?
Because small numbers can – and do – produce misleading statistics, I look for large numbers, as in my quarterly reports. I have, however, calculated the monthly median prices for Essex County SFHs and for Boston condos. After these charts, I will also give an early indication of what the third quarter will look like in Marblehead and Swampscott.
Essex County SFH
This chart shows the monthly median prices for the last 4 years. The blue top line is 2020. After being around $500,000 for the first few months, the median price moved to $545,000 in July and to $575,000 in August. These are, of course, monthly numbers which can fluctuate, but it is also worth noting that the numbers for August refer to sales contracted in June for the most part.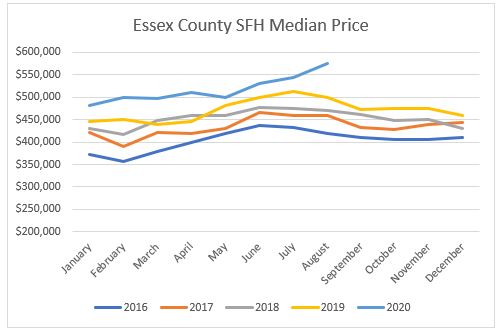 This table shows the quarterly progression. Q2 and Q3 are normally the highest quarters for the year.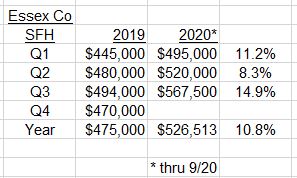 Boston Condos
This chart is less clear, but the table below shows that median prices are little changed from 2019 YTD and have been declining quarter by quarter in 2020.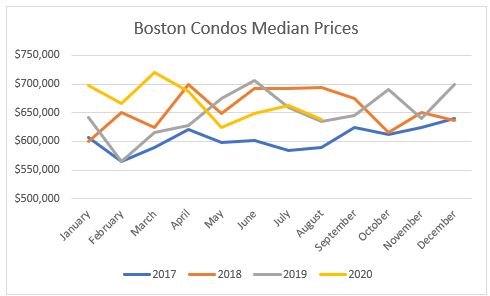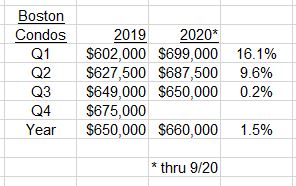 Marblehead and Swampscott
After being below $700,000 in Q1 and Q2, the Q3 median SFH price will blow through not $700,000 but $800,000 – and comfortably at that.
In Swampscott, however, the median SFH is likely to be similar to the 2019 level. Some interesting analysis when I write my Q3 reports.
Goodbye Boston, Hello Marblehead
Housing Inventory chronically low while demand is strong
Mortgage rates dip below 3% – where to next?
Andrew Oliver
Market Analyst | Team Harborside | teamharborside.com
REALTOR®
Sagan Harborside Sotheby's International Realty
One Essex Street | Marblehead, MA 01945
m 617.834.8205
www.OliverReports.com
Andrew.Oliver@SothebysRealty.com
Sotheby's International Realty® is a registered trademark licensed to Sotheby's International Realty Affiliates LLC. Each Office Is Independently Owned and Operated
"If you're interested in Marblehead, you have to visit the blog of Mr. Andrew Oliver, author and curator of OliverReports.com. He's assembled the most comprehensive analysis of Essex County we know of with market data and trends going back decades. It's a great starting point for those looking in the towns of Marblehead, Salem, Beverly, Lynn and Swampscott."