The March 2021 Market Report, released by the Naples Area Board of REALTORS® (NABOR®), which tracks home listings and sales within Collier County (excluding Marco Island), shows that March was the highest performing month in the 13 years NABOR has tracked these metrics.
Sellers are raising prices and multiple offers are still coming in," said Budge Huskey, CEO, Premier Sotheby's International Realty. "This is because inventory is limited, and more sellers are realizing now is a good time to place their home on the market and get top value in the current market conditions!"
Broker analysts predict the level of demand experienced in March is sustainable and should be expected to continue for the next few months, or longer. "Season was disrupted this year because many people elected to hold off relocating until they were fully vaccinated," added Huskey. "Agents also report that many seasonal visitors are staying longer than in previous years, possibly because they can afford to wait in anticipation of more homes becoming available in the luxury market. I believe we'll continue to see more newcomers from northern states looking for homes in the high end in the coming months. Beyond that, and as we enter the summer season, we might begin to see a second wave of international buyers entering our market as travel restrictions begin to relax."
Median closed prices in March increased 12.2 percent to $415,000 (the highest median price increase month/month on record since 2008) from $370,000 in March 2020. In March 2021, there were just 1,819 homes in inventory (the lowest it has been since 2014), which was a 73.2 percent decrease from 6,795 homes in inventory in March 2020.
The March report revealed that the Naples area now has only a 1.6 month supply of homes available to buyers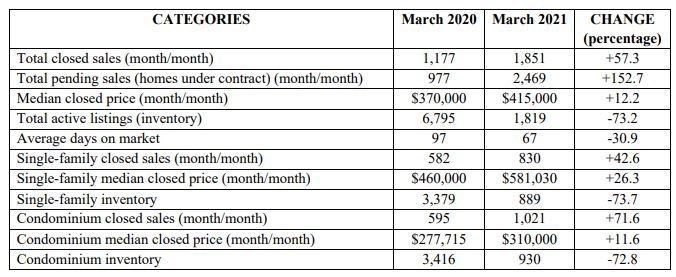 The following charts give a visual summary of market activity: (more…)