This report compares the supply of condos available for sale now compared with the last two years in Essex County overall, together with the individual markets of Salem, Beverly and Lynn, the three largest condo towns nearby. Because sales are not always reported promptly in MLS, my reports on median prices in these markets will be published next week.
Essex County
The number of condos for sale throughout the 34 cities and towns of Essex County has dropped by 25% over the last year and by one-third compared with 2015. As we shall see – and as one would expect – the drop in supply is most marked at lower prices.
The number of condos for sale under $250,000 has plunged over the last two years from 280 to 179 to just 107. There has been a smaller drop in the $250-350,000 range, and above that the numbers are fairly flat.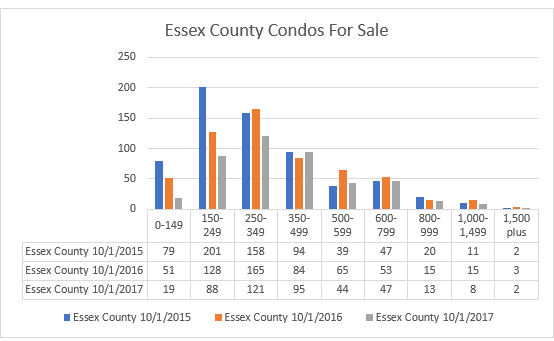 Salem
The Salem condo market continues to be very active, while the number of condos for sale has dropped 60% over the last two years.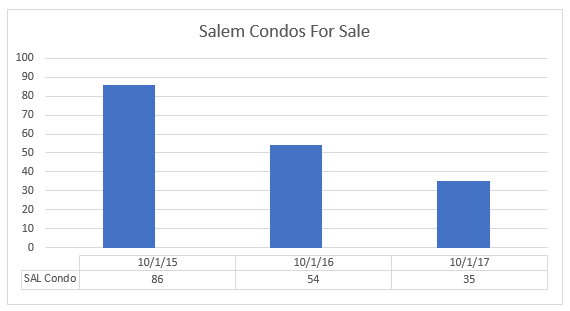 The story by price mirrors that of Essex County overall: a huge drop under $250,000; a large drop in the $250-350,000 range; and stable above that price. And there is activity at the higher prices: through 9 months Salem saw 101 condo sales above $350,000, yet there are currently just 12 for sale.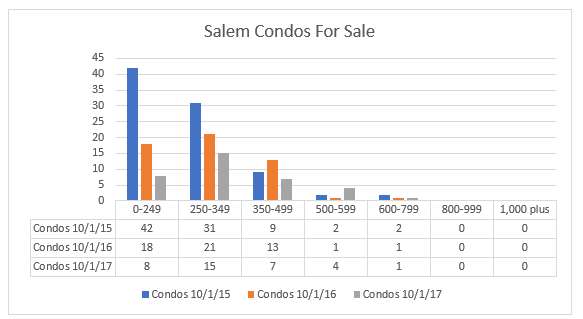 Beverly
The statistics for the condo market in Beverly are slewed by the 73 condos at Elliott Landing which came to the market starting in the spring of 2016. Now that these have been sold, the number of condos for sale has dropped back sharply.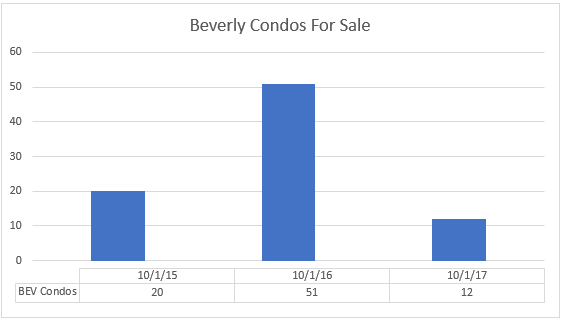 Because of the impact of Elliott Landing, where condos sold for between $330,000 and $800,000, it is more relevant to compare today's inventory with that of two years ago. We see that there are almost no condos under $250,000 and a small increase in the $250-350,000 range.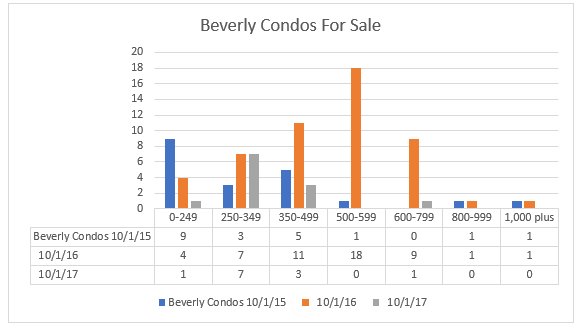 Lynn
The number of condos for sale in Lynn has also dropped sharply over the last two years.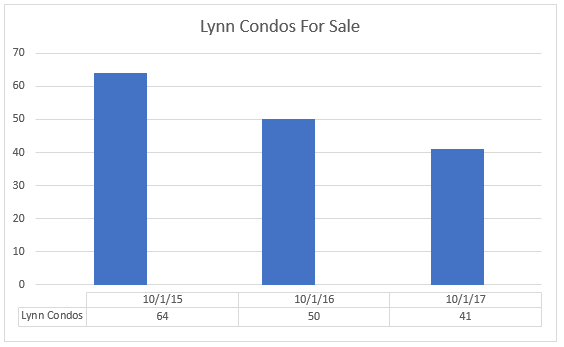 The median price of the condos sold in Lynn has been close to – but never exceeded – $200,000. Until 2017, when the median price for the first 9 months reached $220,000.  There are currently just 9 condos for sale in Lynn below $200,000 – down from 37 two years ago.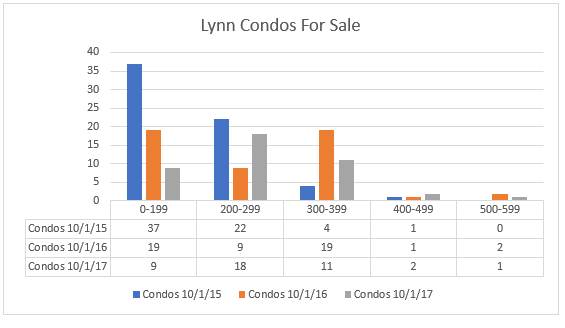 Comment
Further comment seems almost superfluous: the condo market in Essex County has been extremely active. Low supply and continued strong demand inevitably lead to higher prices. Preliminary numbers show that the median price throughout Essex County increased 10% in the first 9 months of the year. Check back for the full report next week.
If you – or somebody you know – are considering buying or selling a home and have questions about the market and/or current home prices, please contact me on 617.834.8205 or Andrew.Oliver@SothebysRealty.com.
If you are looking to buy, I will contact you immediately when a house that meets your needs is available. In this market you need to have somebody looking after your interests.
Are you thinking about selling? Read  Which broker should I choose to sell my house?
Andrew Oliver is a Realtor with Harborside Sotheby's International Realty. Each Office Is Independently Owned and Operated
@OliverReports