The median price of Single-Family Homes (SFH) sold in Q1 2021increased 11% to $550,000 from Q1 2020,  but was in line with the $555,000 in the second half of the year 2020.
Every one of the 34 cities and towns in Essex County saw Year-on-Year (YOY) increases in the median selling price; only 6 of the 34 cities and towns recorded a median SFH price under $500,000, while 3 saw that figure exceed $1 million.
Numbers in any Q, especially Q1, need to be treated with caution: some of the largest apparent increases in median prices occurred on a small number of sales.
The Condo median sales price increased 9.9% to $365,000. In Boston, the median price was very similar to the levels of the last 3 years, during which time the Essex County Condo median price has increased some 20%.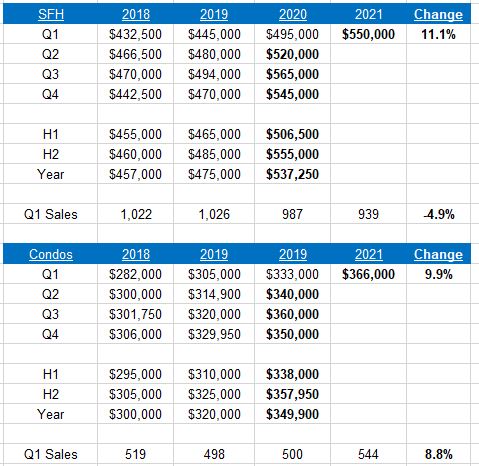 For a more detailed report on the market in Q1 go to Team Harborside's website and read: Essex County Q1 Market Review (more…)