[Click Beverly Q3 2019 Housing Market Summary to download a copy of this report.
Single Family Homes (SFH)
After 8 consecutive quarters in 2017-18 in the $450,000-$475,000 range, the median price of Single Family Homes (SFH) sold in the first 9 months of 2019 (YTD Q3) jumped 10.3% to $520,000. Sales, however, were the lowest since 2012.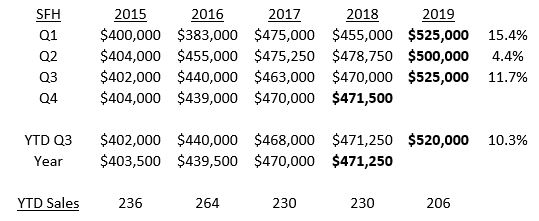 Condos
The median condo price YTD jumped 18.1% to $339,000, but was similar to the 2017 level of $340,000. While the drop in 2017 was caused by the end of sales at Elliott Landing, the increase in 2019 in both median price and sales seems to be more a reflection of strong buying interest in Beverly generally rather than any one new development.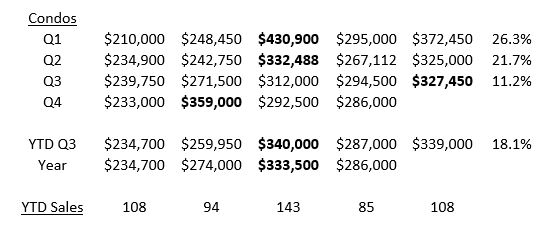 NB Numbers in bold represent record levels. Sources: MLSPIN, OliverReports.com
Andrew Oliver
Market Analyst | Team Harborside | teamharborside.com
REALTOR®
Sagan Harborside Sotheby's International Realty
One Essex Street | Marblehead, MA 01945
m 617.834.8205
www.OliverReports.com
www.TeamHarborside.com
Andrew.Oliver@SothebysRealty.com
Sotheby's International Realty® is a registered trademark licensed to Sotheby's International Realty Affiliates LLC. Each Office Is Independently Owned and Operated