While conventional wisdom holds that a market is in equilibrium between buyers and sellers when the current inventory represents 6 months of sales, that overall number masks major differences which occur at different price points.
The tables below show the position by price for Essex County overall and for Marblehead, Swampscott, Salem, Beverly and Lynn.
Essex County
The table below breaks down supply at different price levels for Essex County overall.This shows that the dynamic between sellers and buyers changes as prices go above $750,000.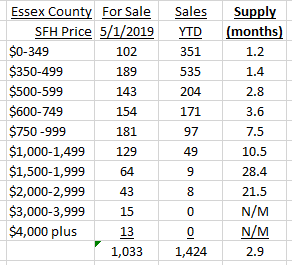 (more…)