We all know that there is in general a shortage of houses available for sale – other than at higher price points. Writing a report saying that the supply is 3 or 4 or 2 months at recent sales levels doesn't add to the pool of knowledge – it just makes buyers feel more anxious!
This report analyzes the Single Family Home (SFH) market in Marblehead and looks at how quickly houses receive offers once they hit the market.The charts show the percentage of houses that received offers in the first 29 days on the market. Pending sales – those with an accepted offer which have not yet closed – show the highest figure – 71% received that offer within 29 days, while the number drops to around 50% for both Sold YTD and currently For Sale.
The percentages vary by price point, but the takeaway here is – yes, houses are selling quickly if they are attractively priced, but half the houses have been on the market for 30 days or more.
So scan the new listings and call to make an appointment to see a house that looks like it meets your needs, but don't ignore the houses that have been on the market for a while.
Unless you have an unlimited budget, buying a house involves some compromise between your perfect home and what you can buy, so please go and look at houses. Many people buy homes they didn't think worked for them – until they visited them and figured out that, yes, this one would work for my family!
Current Inventory by price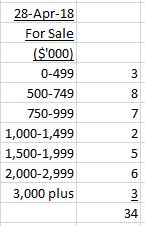 Market Overall
As mentioned half the houses have been on the market for 30 days or longer, but 71% of pending sales received an offer within 29 days.
(more…)