Mortgage applications spike
U.S. applications for home mortgages jumped last week, in a sixth straight weekly increase, suggesting the housing market could lead the economy's recovery from the novel coronavirus crisis even as high unemployment is expected to linger.
The Mortgage Bankers Association (MBA) said on Wednesday its seasonally adjusted Purchase Index increased 8.6% from a week earlier. On an unadjusted basis, the index rose 7.4% from the prior week and was 9% higher compared to the same week a year ago. It was the sixth consecutive weekly gain and a 54% surge since early April.
"The home purchase market continued its path to recovery as various States reopen, leading to more buyers resuming their home search," said Joel Kan, MBA's associate vice president of economic and industry forecasting. "The purchase loan amount has increased steadily in recent weeks and is now at its highest level since mid-March." (Reuters).
This national news confirms the trends reported in my latest report Accepted Offers remain high despite low Inventory .
For the last three years the inventory of SFHs for sale in Essex County has been quite stable. That is about to change as these are the numbers with a few days left until June 1: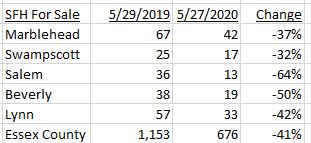 Goodbye Boston, Hello Marblehead
Accepted Offers remain high despite low Inventory
"If you're interested in Marblehead, you have to visit the blog of Mr. Andrew Oliver, author and curator of OliverReports.com. He's assembled the most comprehensive analysis of Essex County we know of with market data and trends going back decades. It's a great starting point for those looking in the towns of Marblehead, Sale, Beverly, Lynn and Swampscott.
Andrew Oliver
Market Analyst | Team Harborside | teamharborside.com
REALTOR®
Sagan Harborside Sotheby's International Realty
One Essex Street | Marblehead, MA 01945
m 617.834.8205
www.OliverReports.com
Andrew.Oliver@SothebysRealty.com
Sotheby's International Realty® is a registered trademark licensed to Sotheby's International Realty Affiliates LLC. Each Office Is Independently Owned and Operated