Housing Inventory – signs of hope?
SFH Inventory as of August 1 increased from July 1 but still trails historic levels. See the chart and comment later in this article for more details.
Single Family Homes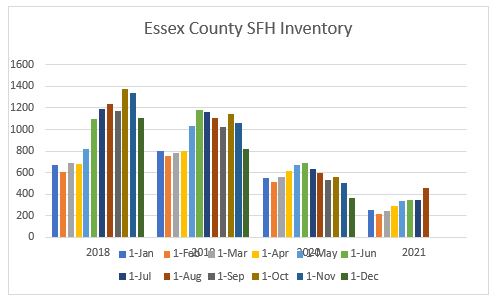 Condos
There is a similar picture in Condo inventory: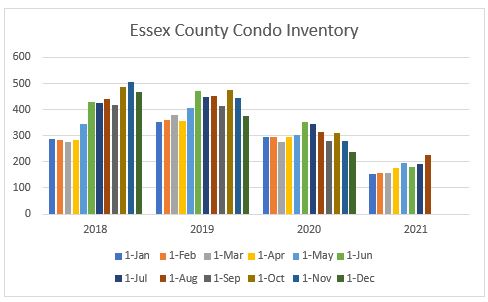 Mortgage rates
After moving up earlier in the year the 30-year Fixed Rate Mortgage has dropped well below 3% again. Note how cheap 15-year mortgages are for those who can afford the extra monthly payment.
Comment
While there has been some pick-up in inventory on a monthly basis, this next chart shows how the number fluctuates on a daily basis: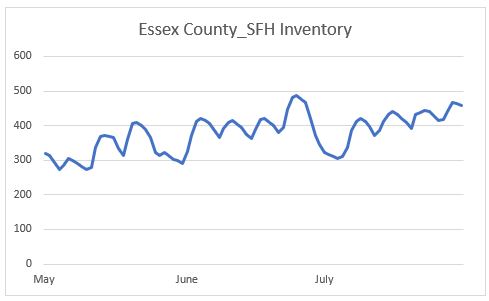 It is too early to tell whether the increase in inventory is the start of a much needed trend, or a reflection of some buyers taking a break to enjoy the summer and the opportunity to travel again. And it is also too early to tell if the huge increases in the number of COVID infections will make sellers reluctant once again to allow strangers into their homes.
Read these recent articles:
Marblehead Mid-Year 2021 Market Report
Swampscott Mid-Year 2021 Market Report
Salem Mid-Year 2021 Market Report
Beverly Mid-Year 2021 Market Report
Essex County Mid-Year 2021 Market Report
Is Inventory picking up at last?
Team Harborside recognized on America's Best Real Estate Professionals list
Are mortgage rates heading up or down?
Essex County 2021 Residential Property Tax Rates: a Town by Town guide
Naples Housing Market Mid-Year 2021 Review
If you – or somebody you know – are considering buying or selling a home and have questions about the market and/or current home prices, please contact me on 617.834.8205 or Andrew.Oliver@SothebysRealty.com.
"If you're interested in Marblehead, you have to visit the blog of Mr. Andrew Oliver, author and curator of Oliver Reports . He's assembled the most comprehensive analysis of Essex County we know of with market data and trends going back decades. It's a great starting point for those looking in the towns of Marblehead, Sale, Beverly, Lynn and Swampscott."
Andrew Oliver
Market Analyst | Team Harborside | teamharborside.com
REALTOR®
Sagan Harborside Sotheby's International Realty
One Essex Street | Marblehead, MA 01945
m 617.834.8205
www.OliverReportsMA.com
Andrew.Oliver@SothebysRealty.com
Sotheby's International Realty® is a registered trademark licensed to Sotheby's International Realty Affiliates LLC. Each Office Is Independently Owned and Operated
Andrew Oliver
Sales Associate | Market Analyst | DomainRealty.com
REALTOR®
Naples, Bonita Springs and Fort Myers
Andrew.Oliver@DomainRealtySales.com
m. 617.834.8205
www.MarbleheadSouth.com