Big Jump in 2022 Conforming Mortgage Limits
Fannie Mae and Freddie Mac are restricted by law to purchasing single-family mortgages with origination balances below a specific amount, known as the "conforming loan limit." Loans above this amount are known as jumbo loans.
In most of the US the 2022 limit will increase 18 % from $548,250 to $647,200, but in Essex County the limit will  rise to $770,500, meaning that the buyer of  a Single Family Home, with 20% down, can purchase a house up to $963,125 with a conventional mortgage.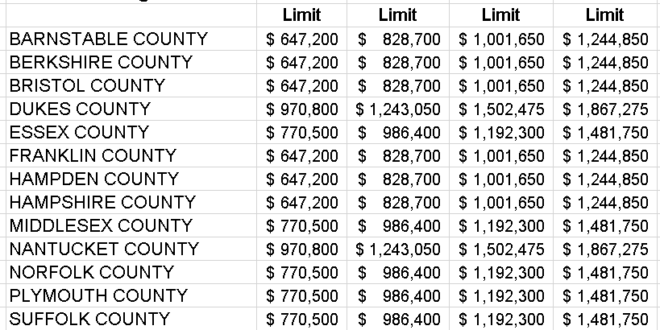 The national conforming loan limit for mortgages that finance single-family one-unit properties increased from $33,000 in the early 1970s to $417,000 for 2006-2008, with limits 50 percent higher for four statutorily-designated high cost areas: Alaska, Hawaii, Guam, and the U.S. Virgin Islands.
Since 2008, various legislative acts increased the conforming loan limits in certain high-cost areas in the United States. While some of the legislative initiatives established temporary limits for loans originated in select time periods, a permanent formula was established under the Housing and Economic Recovery Act of 2008 (HERA). The 2022 c​onforming loan limits have been set under the HERA formula.
Andrew Oliver, M.B.E.,M.B.A.
Market Analyst | Team Harborside | teamharborside.com
REALTOR®
Sagan Harborside Sotheby's International Realty
One Essex Street | Marblehead, MA 01945
m 617.834.8205
www.OliverReportsMA.com
Andrew.Oliver@SothebysRealty.com
Sotheby's International Realty® is a registered trademark licensed to Sotheby's International Realty Affiliates LLC. Each Office Is Independently Owned and Operated
"If you're interested in Marblehead, you have to visit the blog of Mr. Andrew Oliver, author and curator of OliverReportsMA.com. He's assembled the most comprehensive analysis of Essex County we know of with market data and trends going back decades. It's a great starting point for those looking in the towns of Marblehead, Salem, Beverly, Lynn and Swampscott."
__________________
Andrew Oliver
REALTOR® | Market Analyst | DomainRealty.com
Naples, Bonita Springs and Fort Myers
Andrew.Oliver@DomainRealtySales.com
m. 617.834.8205
www.AndrewOliverRealtor.com
www.OliverReportsFL.com