Harvard Students share their Vision for Lynn
Students from the Harvard Graduate School of Design presented their semester-long group projects based on the theme of "Lynn: A Greater Gateway" at the Lynn Museum Thursday evening.
"We've been working with the city since January to think about what does it mean to be a gateway city," project coordinator and Associate Professor Dan D'Oca said.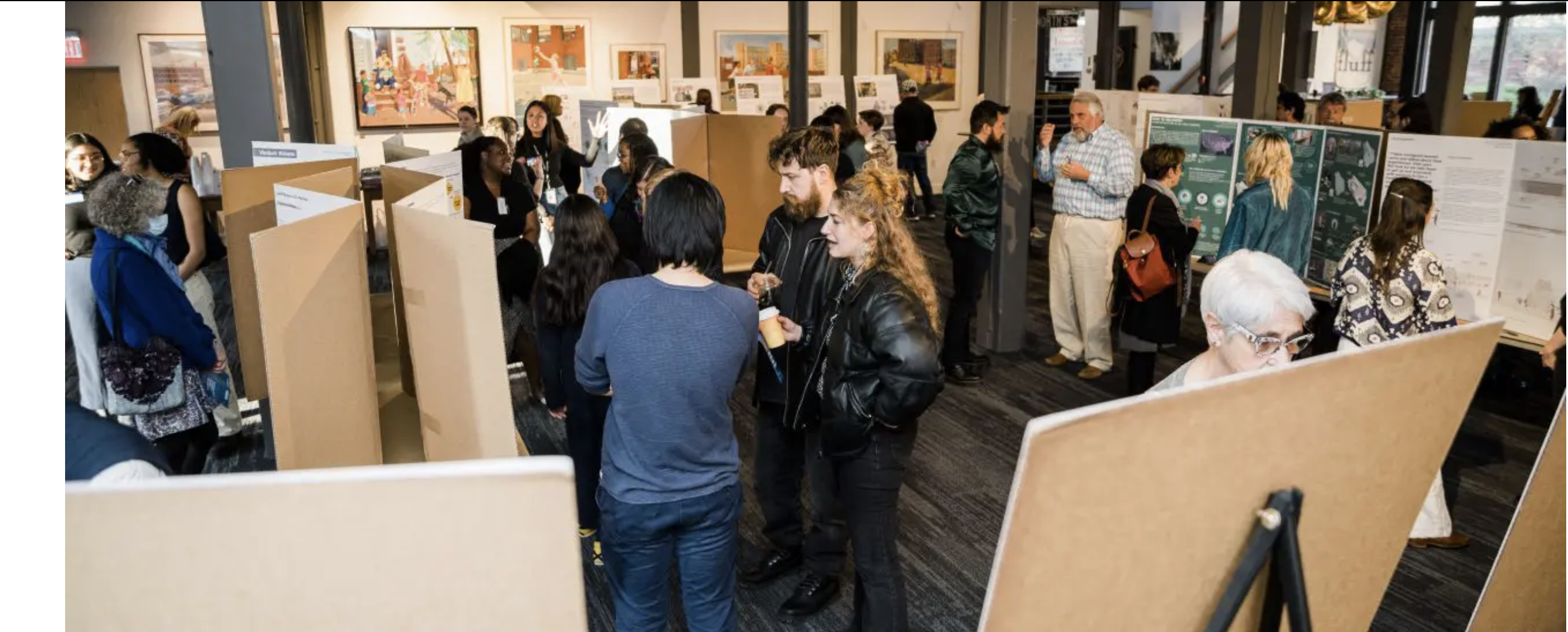 Each group looked at different topics, including economic development and transportation, and thought of how to tailor the city to recent immigrants.
Graduate student Aathira Pillai's group proposed developing an app for the city's residents.
"Individuals can come together on one platform [and] start pulling things in, that is where we propose 'My Lynn' app," Pillai said.
The app would be able to function in whatever language the user needs, she said.
"Apart from helping you reach the critical resources that you might need, you might also walk around, scan through the app and get all the city posters, signs, instructions translated to something that you are comfortable with," Pillai said.
Another proposal came from Briana Villavarde's group, which focused on an urban heating resilience plan.
"What it really goes over is that technical solutions to urban heat are usually inequitably distributed throughout the city," Villavarde said. "So how can community engagement, and local and oral knowledge from residents really make technical solutions more robust [in] addressing where heat is the most severe and really targeting vulnerable populations first."
Through her research she found hot spots in the city, some of which are the General Electric plant, Market Basket, and downtown Lynn.
Other proposals discussed issues such as flooding, equitable development, and affordable housing.
Developer Charlie Patsios of Swampscott said he was "impressed" by the projects he saw from the students Thursday evening.
"What they're doing is they're envisioning everything, but they're asking questions of me on what can happen, and what permission we can give them to let them look at all possibilities," Patsios said.
"It's been amazing, the students love the city," D'Oca said. "Everybody we talked to has been really generous with their time and people have given us a lot of feedback. It's a place that people really seem to love, we totally get why, and so we hope we did it justice with some of these recommendations we made." (The Daily Item)
And these recent articles:
Economic and mortgage commentary
Federal Reserve increase rates; Mortgage Rates drop
What drives Mortgage rates in one chart
How Marblehead's 2023 Property Tax Rate is Calculated
Essex County 2023 Property Tax Rates: Town by Town guide
Why Mortgage Rates Will Fall
Recession? Yes, no, maybe….
Has Inflation Peaked?
Market Reports
Q1 2023 Market Stats
April Inventory shows little improvement
Marblehead 2022 Housing Market Review
Swampscott 2022 Housing Market Review
Beverly 2022 Housing Market Review
Salem 2022 Housing Market Review
Essex County 2022 Housing Market Review
Essex County Town by Town Guide: 2022 Median Prices and Sales; 2023 Tax Rates
If you – or somebody you know – are considering buying or selling a home and have questions about the market and/or current home prices, please contact me on 617.834.8205 or ajoliver47@gmail.com.
Andrew Oliver, M.B.E.,M.B.A.
Market Analyst | Team Harborside | teamharborside.com
REALTOR®
m 617.834.8205
www.OliverReportsMA.com
"If you're interested in Marblehead, you have to visit the blog of Mr. Andrew Oliver, author and curator of OliverReportsMA.com. He's assembled the most comprehensive analysis of Essex County we know of with market data and trends going back decades. It's a great starting point for those looking in the towns of Marblehead, Salem, Beverly, Lynn and Swampscott."
__________________
Andrew Oliver, M.B.E., M.B.A.
Real Estate Advisor
Andrew.Oliver@Compass.com
www.TheFeinsGroup.com
www.OliverReportsFL.com
————
Compass
800 Laurel Oak Drive, Suite 400, Naples, FL 34108
m: 617.834.8205