Does nobody want to leave Marblehead?
Marblehead has a population of around 20,000 and more than 6,250 Single Family Homes (SFH).
In a normal year perhaps 250-300 of these change hands, which is a remarkably low number. Once people move to Marblehead they are very reluctant to leave! And that was true even before COVID-19.
Everybody has heard how low inventory is, but how low is very low?I looked at the inventory of SFHs for sale on this date for the last 20 years.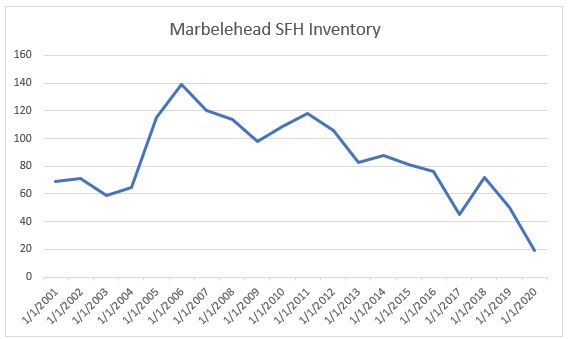 Yikes!
Now look at the price ranges of the houses currently for sale: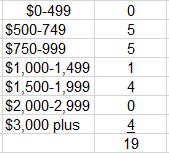 Low inventory, low mortgage rates, strong demand. These are all factors which lead me to argue Goodbye Boston, Hello Marblehead
Mortgage rates dip below 3% – where to next?
Lies, Damned Lies and Statistics: Q3 GDP growth
Andrew Oliver
Market Analyst | Team Harborside | teamharborside.com
REALTOR®
Sagan Harborside Sotheby's International Realty
One Essex Street | Marblehead, MA 01945
m 617.834.8205
www.OliverReports.com
Andrew.Oliver@SothebysRealty.com
Sotheby's International Realty® is a registered trademark licensed to Sotheby's International Realty Affiliates LLC. Each Office Is Independently Owned and Operated
"If you're interested in Marblehead, you have to visit the blog of Mr. Andrew Oliver, author and curator of OliverReports.com. He's assembled the most comprehensive analysis of Essex County we know of with market data and trends going back decades. It's a great starting point for those looking in the towns of Marblehead, Salem, Beverly, Lynn and Swampscott."
Some people use stats the way a drunk uses a lamppost: for support rather than for illumination