Essex County Mid-Year 2021 Market Report
The real estate market in Essex County continued to boom in the first half 2021 (H1 2021), with multiple offers the norm for most properties. The COVID-inspired slowdown in the second quarter of 2020 impacted sales – which were delayed – rather than prices. Thus, while Year- on- Year (YOY) increases in sales are from an artificially low base, the increase in median prices is real.
The median SFH price in H1 2021 broke through $600,000, just a year after reaching $500,000 for the first time.
In H1 2021 only 5 of the 34 cities and towns – Amesbury, Lynn, Methuen, Haverhill and Lawrence – had a median SFH price under $500,000, while 16 had median prices above $750,000. Every town except Middleton saw double digit increases YOY, while Marblehead was the only town where the H1 2021 median SFH price was lower than in H1 2020.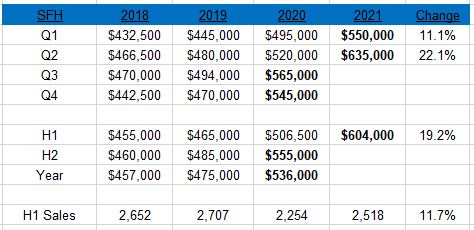 The median condo price increased more modestly, increasing by "only" 12.1% YOY to $379,000.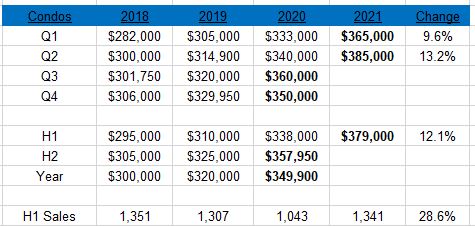 Click on the link to read the full Team Harborside Essex County Mid-Year 2021 Review
Marblehead Mid-Year 2021 Market Report
Swampscott Mid-Year 2021 Market Report
Salem Mid-Year 2021 Market Report
Beverly Mid-Year 2021 Market Report
Is Inventory picking up at last?
Team Harborside recognized on America's Best Real Estate Professionals list
Are mortgage rates heading up or down?
Essex County 2021 Residential Property Tax Rates: a Town by Town guide
Naples market summary in June
Andrew Oliver
Market Analyst | Team Harborside | teamharborside.com
REALTOR®
Sagan Harborside Sotheby's International Realty
One Essex Street | Marblehead, MA 01945
m 617.834.8205
www.OliverReportsMA.com
Andrew.Oliver@SothebysRealty.com
Sotheby's International Realty® is a registered trademark licensed to Sotheby's International Realty Affiliates LLC. Each Office Is Independently Owned and Operated
"If you're interested in Marblehead, you have to visit the blog of Mr. Andrew Oliver, author and curator of OliverReports.com. He's assembled the most comprehensive analysis of Essex County we know of with market data and trends going back decades. It's a great starting point for those looking in the towns of Marblehead, Salem, Beverly, Lynn and Swampscott."
__________________
Andrew Oliver
REALTOR® | Market Analyst | DomainRealty.com
Naples, Bonita Springs and Fort Myers
Andrew.Oliver@DomainRealtySales.com
m. 617.834.8205
www.AndrewOliverRealtor.com
www.OliverReportsFL.com