Gorilla invades Marblehead
Tom Saltsman, the Marblehead architect, is famous for creating larger-than-life Halloween installations at his home, 32 Pleasant Street. This year his creation is Kong, a 22 ft tall gorilla. The big ape is crouching in front of Saltsman's garage. When he awakes this weekend, Kong will make movements and noises. To maintain suspense, Saltsman didn't want to reveal any more details.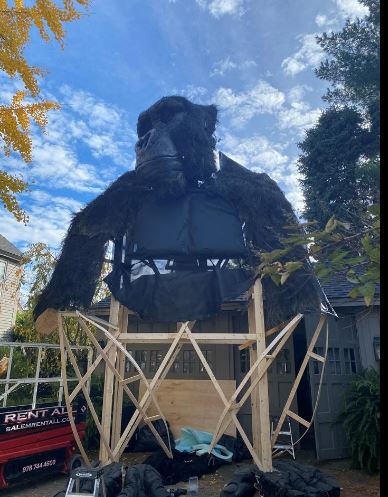 Last year, he and his band of volunteers built a ghost ship and visitors (who dared) could walk inside and experience the sensation of sinking underwater.
In 2018, he attracted attention from around the world with a giant, moving dragon draped over his garage and house. Videos of the creature went viral. Boston TV crews lined Pleasant Street.
Saltsman estimates that more than a thousand people came to see the dragon.
Asked why he chose to build Kong this year, he answered with a laugh, "Who hasn't wanted to sculpt a giant gorilla?" (Swampscott Reporter)
Lies, Damned Lies and Statistics: Q3 GDP growth
Goodbye Boston, Hello Marblehead
Andrew Oliver
Market Analyst | Team Harborside | teamharborside.com
REALTOR®
Sagan Harborside Sotheby's International Realty
One Essex Street | Marblehead, MA 01945
m 617.834.8205
www.OliverReports.com
Andrew.Oliver@SothebysRealty.com
Sotheby's International Realty® is a registered trademark licensed to Sotheby's International Realty Affiliates LLC. Each Office Is Independently Owned and Operated
"If you're interested in Marblehead, you have to visit the blog of Mr. Andrew Oliver, author and curator of OliverReports.com. He's assembled the most comprehensive analysis of Essex County we know of with market data and trends going back decades. It's a great starting point for those looking in the towns of Marblehead, Salem, Beverly, Lynn and Swampscott."
"Some people use stats the way a drunk uses a lamppost: for support rather than for illumination"