How much do you need to earn to afford to rent a 2 bed apartment?
A new report by the National Low Income Housing Coalition finds that it is getting harder and harder for average Americans to afford a modest rental.
In 2016, a worker would need to make $20.30 per hour to rent a two-bedroom accommodation comfortably—without devoting more than 30 percent of income on housing costs. Last year, NLIHC pegged this "housing wage" at $19.35 per hour. The actual average hourly wage is $15.42.
The report highlights the difference in each State between the actual hourly earnings and that needed to afford a 2 bed rental.
This is the summary for Massachusetts: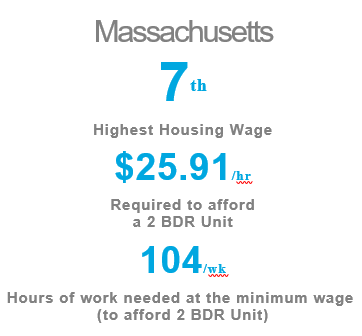 And here is the detailed report for Massachusetts.
If you are considering selling your home please contact me on 617.834.8205 or Andrew.Oliver@SothebysRealty.com for a free market analysis and explanation of the outstanding marketing program I offer.
Read Which broker should I choose to sell my house?
If you are looking to buy, I will contact you immediately when a house that meets your needs is available. In this market you need to have somebody looking after your interests.
Andrew Oliver is a Realtor with Harborside Sotheby's International Realty. Each Office Is Independently Owned and Operated
@OliverReports