How much does Boston impact Massachusetts condo prices?
Boston has a huge impact on the Massachusetts condo market and this article quantifies that impact: Boston added over $50,000, or 15%, to the median price of a condo in Massachusetts in 2016.
Median Prices since 2004
This chart, with the numbers below, shows that Boston prices have appreciated at a faster rate than the rest of the State.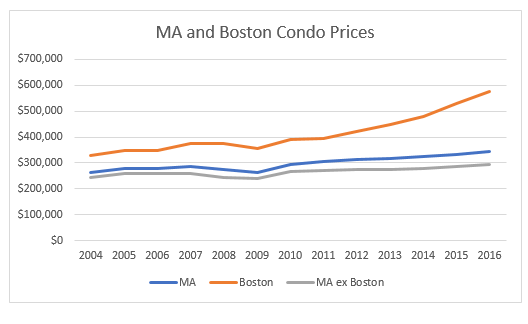 Increase since 2011
Over the last 5 years the increase in Boston has been much larger than in the rest of Massachusetts.
Difference between Boston median price and the rest of Massachusetts
The difference in median prices between Boston and the rest of Massachusetts has more than doubled over the last 5 years.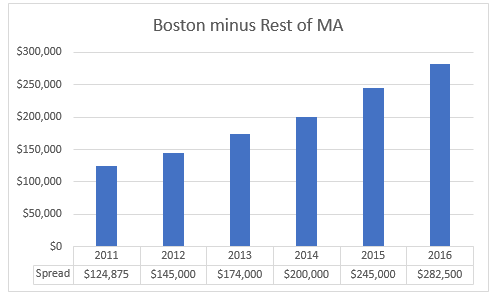 Comment
While it is the hugely expensive new condo developments that garnish the publicity, there were nearly 1,700 condos sold under $500,000 in 2016 ( 350 of them under $300,000). As with real estate everywhere, there are always less expensive properties available.
Not sure how to choose the  broker to sell your home? Read  Which broker should I choose to sell my house?
Please contact me on 617.834.8205 or Andrew.Oliver@SothebysRealty.com for a free market analysis and explanation of the outstanding marketing program I offer
If you are looking to buy, I will contact you immediately when a house that meets your needs is available. In this market you need to have somebody looking after your interests.
Andrew Oliver is a Realtor with Harborside Sotheby's International Realty. Each Office Is Independently Owned and Operated
@OliverReports