Housing Inventory guide by price
This report breaks down inventory by price for 5 North Shore towns, plus Essex County and Massachusetts. Overall, inventory is down 15-20% from last year's low numbers and there is a pattern that is repeated pretty well everywhere: a decline, in many cases a sharp one, of inventory at lower prices.
Marblehead and Swampscott
Total inventory is unchanged, but note the drop under $500,000 and the increase in the $500,000 – $1 million range:
Salem, Beverly and Lynn
Salem has experienced an extraordinary drop in inventory of both SFHs and Condos. The biggest changes in Beverly and Lynn are, as elsewhere, at the lower end.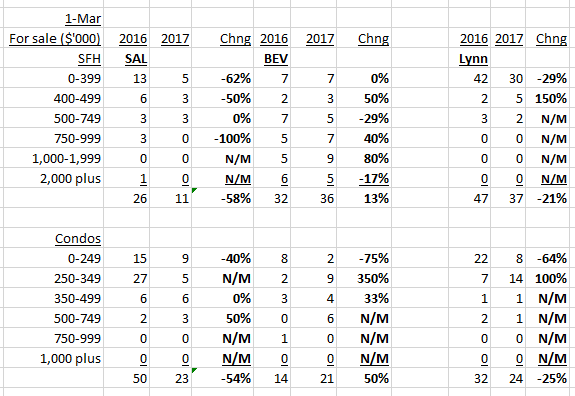 Essex County and Massachusetts
And so in both Essex County and Massachusetts: a big drop in inventory a the lower end
Are you thinking about selling? Read  Which broker should I choose to sell my house?
Please contact me on 617.834.8205 or Andrew.Oliver@SothebysRealty.com for a free market analysis and explanation of the outstanding marketing program I offer
If you are looking to buy, I will contact you immediately when a house that meets your needs is available. In this market you need to have somebody looking after your interests.
Andrew Oliver is a Realtor with Harborside Sotheby's International Realty. Each Office Is Independently Owned and Operated
@OliverReports