Marblehead house receives over 30 offers
Perhaps you are hoping that the housing market will slow down in the winter months, or that new inventory will help to meet the demand.
Well, as they say, not so fast.
A house was listed in Marblehead recently for $445,000. A Cape on an 8,600 sf lot overlooking a wooded area.
There were more than 30 offers submitted. Yep, 30.
This chart shows just how low inventory is currently.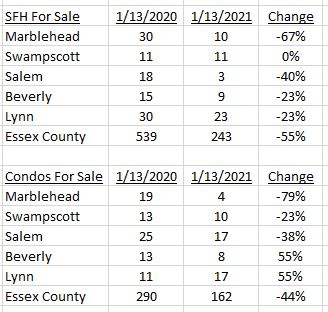 The message remains: if you want to buy a house in this market, you must have at least a current pre-approval letter from a lender, and you must be working with an agent who will represent your interests.
Marblehead record $7 million sale
How Marblehead's 2021 Property Tax Rate is Calculated
Essex County 2021 Residential Property Tax Rates: a Town by Town guide
Conforming Mortgage Loan Limits raised for 2021
Andrew Oliver
Market Analyst | Team Harborside | teamharborside.com
REALTOR®
Sagan Harborside Sotheby's International Realty
One Essex Street | Marblehead, MA 01945
m 617.834.8205
Licensed Sales Agent in Florida
www.OliverReports.com
Andrew.Oliver@SothebysRealty.com
Sotheby's International Realty® is a registered trademark licensed to Sotheby's International Realty Affiliates LLC. Each Office Is Independently Owned and Operated
"If you're interested in Marblehead, you have to visit the blog of Mr. Andrew Oliver, author and curator of OliverReports.com. He's assembled the most comprehensive analysis of Essex County we know of with market data and trends going back decades. It's a great starting point for those looking in the towns of Marblehead, Salem, Beverly, Lynn and Swampscott."