Marblehead Mid-Year Report: Onwards and Upwards
Despite the low level of inventory all year, sales of Single family Homes (SFHs) were very similar to those of the previous 5 years, but the median price increased by more than 5% to a new high for the first half of the year of $628,000.
The condo market saw a slight increase in sales, while the median price, which declined 9% to $340,000, reflected a sharp increase in sales in the $250-350,000 range compared with 2016. Nevertheless, 10 of the 27 Condo sales in the first half of the year took place above the list price, an indication of strong demand.
Single Family Homes (SFH)
Here is the chart of half-yearly median prices since 2012, followed by a table showing quarterly numbers. Note that the median price has been higher in the second half of the year in each year recently. In fact, the second half has seen a higher median price in every year since 2000 except for 2010 and 2011.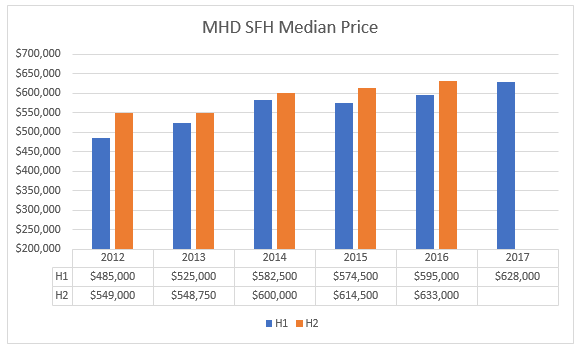 In a seasonal (think winter) market with a limited number of sales, quarterly fluctuations can and frequently do occur (which is why I place greater emphasis on semi-annual and annual numbers).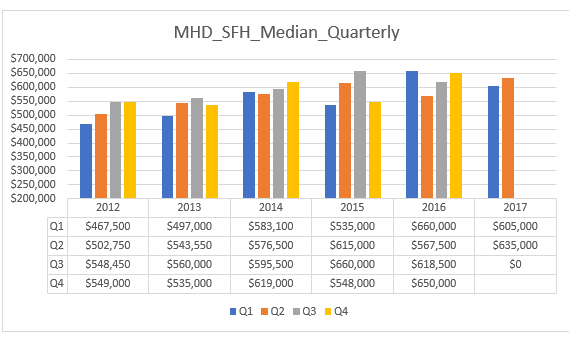 Sales
With inventory being in short supply all year, it is perhaps surprising that sales have come in very close to the levels of the last few years: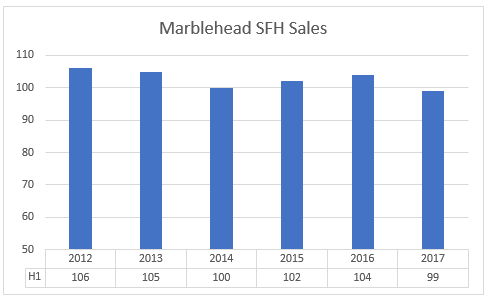 SFH Sales by price
This table shows that the percentage of houses selling below $600,000 has declined in the last three years from 53% to 51% and now 44%. Since the median price is that at which 50% of sales are higher and 50% lower, as the percentage dropped from above 50% to below it, so the median price has moved from under $600,000 to above it.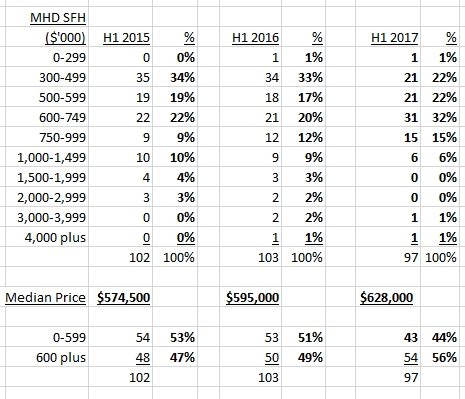 Note also that the number of sales over $1 million dropped from 17 in both 2015 and 2016 to just 8 in 2017. There are, however, 20 SFHs currently under agreement with list prices over $1 million, so it appears that activity at the higher end has been picking up of late. We have already had the record MLS sale at $5.8 million and another house, listed at just under $6 million, has recently gone under agreement.
Current SFH Inventory
For the first time that I recall, inventory is lower in 2017 than it was last year in all price ranges. Hitherto, the feature of inventory has been the divergence between available houses under around $750,000 and supply above that price range.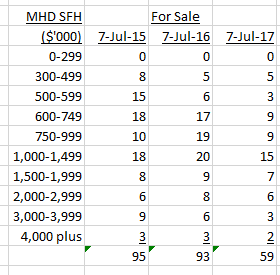 The drop in supply is most acute in the $500,000-$1 million range. Between $500,000 and $750,000 there are just 12 houses for sale, down from 23 a year ago; and from $750,000 to $1 million, the number for sale has dropped from 19 to just 9.
Condo Market
The condo market in Marblehead is small and varies from old 2-3 family conversions to purpose-built oceanfront units. Those two factors can – and frequently – do cause wide swings in the recorded median price. The larger the sample the more reliable the number (the law of large numbers) so I place some confidence in the half-yearly number  and most in the full year's figure. Note also the breakdown in sales by price shown after the pricing information.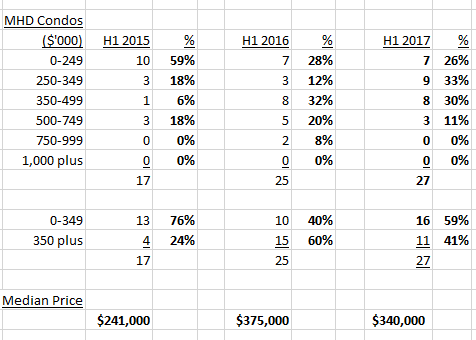 Last year almost 60% of sales were above $350,000, while this year 60% occurred below $350,000.
Current Condo Inventory
The main change in inventory is the sharp drop under $250,000.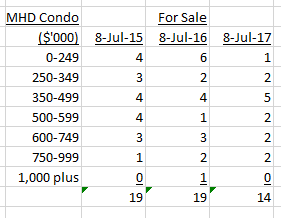 COMMENT
While the median price of a SFH increased by nearly 6% in the first half to a new high of $628,000, there are signs that the median price increase may be accelerating. As of today there are just 8 SFHs for sale under $600,000. Furthermore, the median list price of the 53 SFHs sold so far in July (4) or pending (49) is $765,000.
The first half saw some dramatic bidding wars for houses, with 20 of the SFH sales taking place above list price.
For years I have reported that the market in Marblehead has shown steady, but unspectacular progress. The market here did not get carried away during the boom of the early 2000s nor did it collapse in the Great Recession. It will be interesting to see if the fervour moderates as we head into a traditionally slower selling seasons after July 4th.
Are you thinking about selling? Read  Which broker should I choose to sell my house?
Please contact me on 617.834.8205 or Andrew.Oliver@SothebysRealty.com for a free market analysis and explanation of the outstanding marketing program I offer
If you are looking to buy, I will contact you immediately when a house that meets your needs is available. In this market you need to have somebody looking after your interests.
Andrew Oliver is a Realtor with Harborside Sotheby's International Realty. Each Office Is Independently Owned and Operated
@OliverReports