Marblehead Q3 housing market – on track for new record high
As often happens in a seasonal market, 2016 has seen some large variations in the quarterly median price of a Single Family Home (SFH) in Marblehead. In Q3, the median price was $618,500. While this was the 5th quarter in the last 8 to see a median price over $600,000, it was somewhat lower than last year's very high figure.
YTD through 9 months the median price is $612,500, down 1% from last year's $619,000. Because the majority of the Q4 sales are already under agreement, however, I can be confident that the median price for 2016 as a whole will exceed $600,000 for the first time.
In this report I will look at the Q3 numbers, the YTD numbers and also give a preview of where I think the year will end up.
Q3 prices
The chart and table show the quarterly median prices for the last 6 years.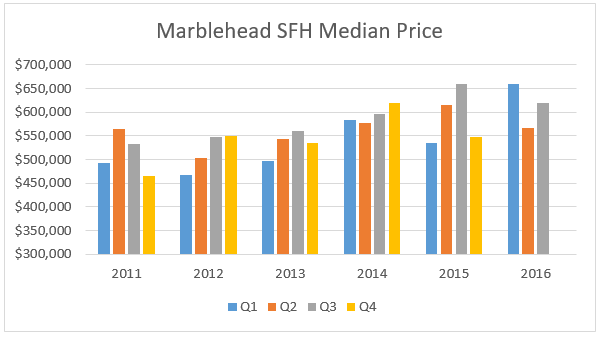 YTD numbers
An unusually low or high median price in Q4 can impact the price for the full year. That did not happen in 2012-14 when the 9M and full year figures were quite close, but in both 2011 and 2015 the Q4 number was so much lower (based in each year on the mix of sales) that the median price for the full year was over $20,000 lower than the 9M figure.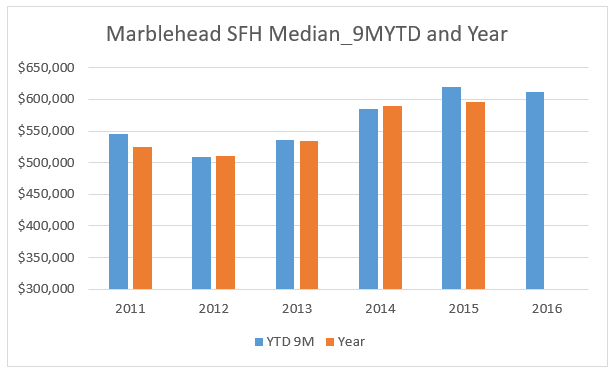 Sales
Since recovering from the Great Recession sales for the full year have been between 227 and 245. Through 9 months we are at 188, with 43 pending sales, so it looks as though the full year will be in the vicinity of 240.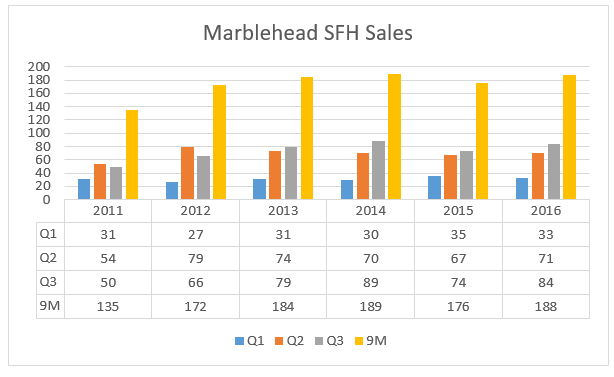 Available for Sale
While the numbers in themselves are quite small, there has still been a roughly 25% drop in supply from 2014 to 2016.
Outlook for 2016
The 43 pending sales have a median list price of around $680,000. YTD sales have taken place on average at 97% of list price, thus suggesting a median sales price of around $660,000 for the pending sales. Adding that to the 188 sales that have already closed this year would produce a median price for the year of about $625,000. More houses will go under agreement and close before the year end, however, so the final outcome will depend upon the prices of those additional sales.
The existing record for a year in Marblehead is the $596,500 achieved in 2015. A very dramatic swing to lower-priced houses would need to occur in the next few weeks for that record not to be beaten in 2016.
If you are considering selling your home please contact me on 617.834.8205 or Andrew.Oliver@SothebysRealty.com for a free market analysis and explanation of the outstanding marketing program I offer.
Not sure which broker to use to sell your home? Read  Which broker should I choose to sell my house?
If you are looking to buy, I will contact you immediately when a house that meets your needs is available. In this market you need to have somebody looking after your interests.
Andrew Oliver is a Realtor with Harborside Sotheby's International Realty. Each Office Is Independently Owned and Operated
@OliverReports