Marblehead Q3 Housing Market Summary
Marblehead Q3 Housing Market Summary
to download a pdf of this report}
Single Family Homes (SFH)
The median price of SFHs sold in Marblehead in the first 9 months of 2019 increased 1.8% to a new record of $712,500. Sales recovered from the 2018 drop and were in line with the 5-year average. The median Days to Offer (DTO) was steady at 13.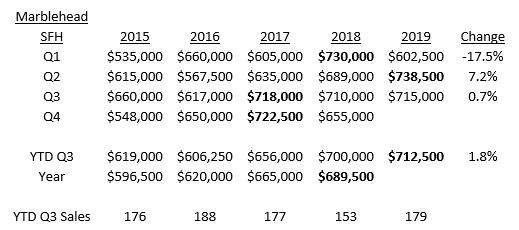 Condos
Because it is such a small market, the median condo price can fluctuate from quarter to quarter. More significantly, the YTD median price is almost exactly the same as in the second half of 2018. Median DTO was 15 against 14 in 2018.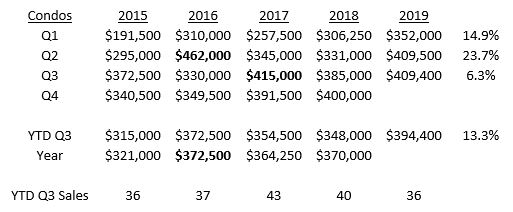 NB Numbers in bold represent record levels. Sources: MLSPIN, OliverReports.com
Andrew Oliver
Market Analyst | Team Harborside | teamharborside.com
REALTOR®
Sagan Harborside Sotheby's International Realty
One Essex Street | Marblehead, MA 01945
m 617.834.8205
www.OliverReports.com
www.TeamHarborside.com
Andrew.Oliver@SothebysRealty.com
Sotheby's International Realty® is a registered trademark licensed to Sotheby's International Realty Affiliates LLC. Each Office Is Independently Owned and Operated
[Click