Mortgage applications almost back to 2019 levels
Mortgage applications to purchase a home rose 6% last week from the previous week, according to the Mortgage Bankers Association's seasonally adjusted index. Purchase volume was just 1.5% lower than a year ago, a rather stunning recovery from just six weeks ago, when purchase volume was down 35% annually.
"Applications for home purchases continue to recover from April's sizable drop and have now increased for five consecutive weeks," said Joel Kan, an MBA economist. "Government purchase applications, which include FHA, VA, and USDA loans, are now 5 percent higher than a year ago, which is an encouraging turnaround after the weakness seen over the past two months."
This confirms the argument in my recent post
Accepted Offers jump to 2020 high
, which showed that the number of properties receiving offers last week was almost back to 2019 levels.
The problem now is not demand, which is clearly there, but supply which, as the next table shows, has dropped dramatically compared with a year ago.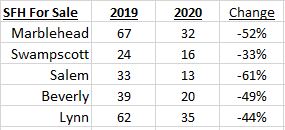 Andrew Oliver
Market Analyst | Team Harborside | teamharborside.com
REALTOR®
Sagan Harborside Sotheby's International Realty
One Essex Street | Marblehead, MA 01945
m 617.834.8205
www.OliverReports.com
Andrew.Oliver@SothebysRealty.com
Sotheby's International Realty® is a registered trademark licensed to Sotheby's International Realty Affiliates LLC. Each Office Is Independently Owned and Operated