Mortgage Rates: Keep Calm and Carry On
Last week in my report Mortgage rates drop again – where next? I showed the historical relationship between the yield on the US 10 year Treasury (10T) and the 30 year Fixed rate Mortgage (FRM), and said there were two reasons I did not expect the FRM to drop as far as that relationship would imply: the safe haven status of 10T,which caused strong buying of Treasuries, and the desire by banks to boost their profit margins.
This week, as markets decided to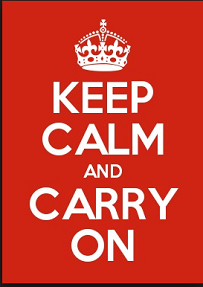 we saw the yield on the 10T drop quite sharply, but little change in the FRM.
What happened?
In simple terms, as the fear factor receded, so did buying of 10T as a safe haven. In fact, 10T saw selling and the yield increased from 1.37% last week to 1.56% this week. With the FRM at 3.42%, up slightly from 3.41% last week, the spread – or difference between the two – dropped from over 2% to under 1.9%.
Where are mortgage rates headed?
While the spread between 10T and FRM is still higher than the average of around 1.7% in recent years, two other factors – the desire by banks to increase profits where they can in a low-interest rate environment, and the absence of buying of Mortgage-Backed Securities (MBS)* by the Federal Reserve – suggest that mortgage rates may well stabilize around these levels for the forseeable future.
*Conventional mortgages are placed into pools and sold to investors as MBS. The yield investors require is based upon the yield on the 10T, but in recent years the Federal Reserve was also an active buyer of MBS. This buying had the effect of driving down the yield asked for MBS and hence kept mortgage rates low. The Federal Reserve ended its direct MBS buying program in late 2014.
If you are considering selling your home please contact me on 617.834.8205 or Andrew.Oliver@SothebysRealty.com for a free market analysis and explanation of the outstanding marketing program I offer.
Read Which broker should I choose to sell my house?
If you are looking to buy, I will contact you immediately when a house that meets your needs is available. In this market you need to have somebody looking after your interests.
Andrew Oliver is a Realtor with Harborside Sotheby's International Realty. Each Office Is Independently Owned and Operated
@OliverReports