Naples market on fire in February
The February 2021 Market Report, released by the Naples Area Board of REALTORS® (NABOR®), which tracks home listings and sales within Collier County (excluding Marco Island), marks the last month of comparative activity before the pandemic shuttered the global economy in March 2020. That said, overall closed sales of existing homes in Naples for February increased 62 percent to 1,307 closed sales from 807 closed sales in February 2020.
Buyers are scooping up the available inventory of homes in all geographic locations within Naples almost as fast as they come onto the market. Inventory fell 68.8 percent in February to 2,224 homes from 7,127 homes in February 2020.
Single-family homes continue to be in high demand so, according to the report, many buyers pivoted to condominiums in February. As a result, the condominium market experienced a 75.7 percent increase in closed sales and a 66.6 percent decrease in inventory. In fact, condominium sales in February 2021 eclipsed its comparable sales in any month over the past 15 years.
The February report revealed that the Naples area now has only a 2-months supply of homes available to buyers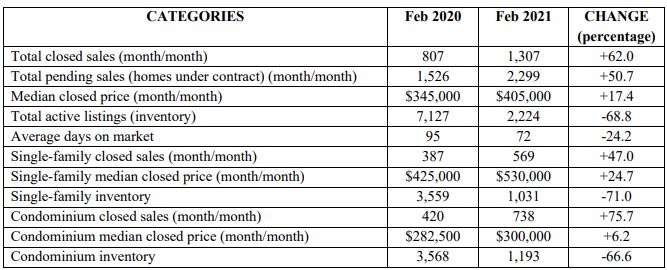 Source: NABOR®
The following charts give a visual summary of market activity:
Closed Sales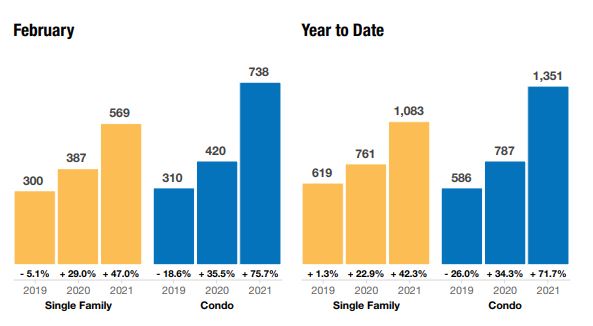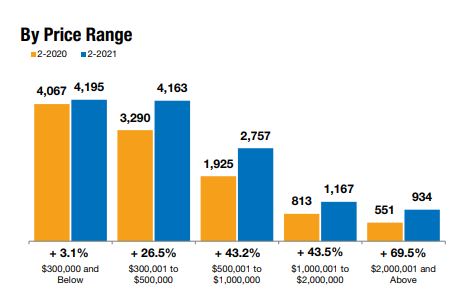 Median Price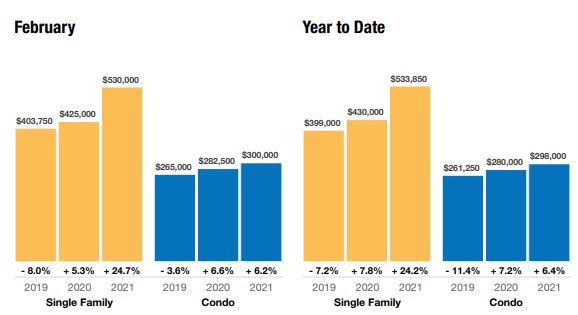 And for the 12-months to February: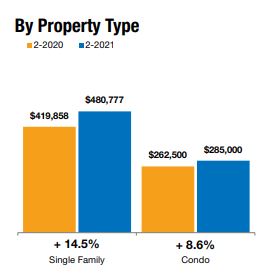 Inventory of Homes for Sale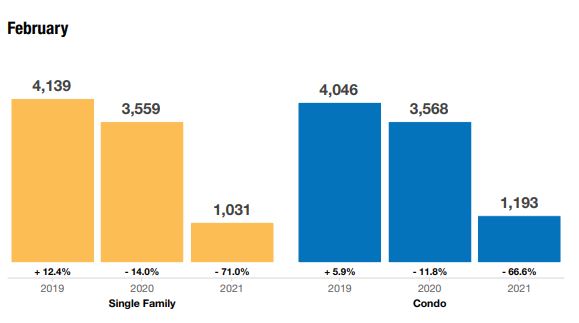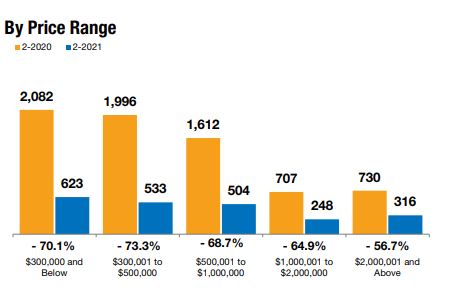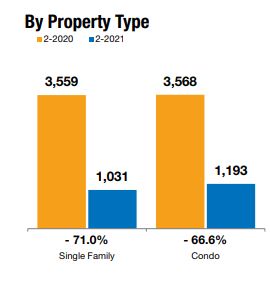 Comment
The preponderance of cash buyers who are purchasing in order to live in the property is one important way in which the current boom differs from the debt-inspired, "buy and flip" mentality of the early 2000s. As the NABOR report states: "Unlike 2005/2006, activity is not a result of 'manufactured wealth'. Sales today are done with real money, which is why home values in our area are finally increasing. Besides, we have what everyone is looking for as it's now possible to work from anywhere in the world so why not live and work in paradise."
Read these recent articles:
"Party on, dude" says the Federal Reserve
Buyers are overpaying, but are there signs of a bubble?
How do prices in Southwest Florida compare with 2007/08?
Andrew Oliver
Sales Associate | Market Analyst | DomainRealty.com
REALTOR®
Naples, Bonita Springs and Fort Myers
Andrew.Oliver@DomainRealtySales.com
m. 617.834.8205
www.AndrewOliverRealtor.com
www.OliverReportsFL.com
Market Analyst | Team Harborside | teamharborside.com
Sagan Harborside Sotheby's International Realty
One Essex Street | Marblehead, MA 01945
www.OliverReportsMA.com
Andrew.Oliver@SothebysRealty.com
Sotheby's International Realty® is a registered trademark licensed to Sotheby's International Realty Affiliates LLC. Each Office Is Independently Owned and Operated
"If you're interested in Marblehead, you have to visit the blog of Mr. Andrew Oliver, author and curator of OliverReports.com. He's assembled the most comprehensive analysis of Essex County we know of with market data and trends going back decades. It's a great starting point for those looking in the towns of Marblehead, Salem, Beverly, Lynn and Swampscott."