Salem 2016 Housing Market: record prices and sales
In 2016 the median price of a Single Family Home (SFH) in Salem increased by $21,000, or 6%, to $370,000, a new record high.  Sales jumped 16% to a new high while the average number of houses for sale dropped slightly, indicating that houses sold very quickly. I shall publish a separate report on the equally buoyant condo market.
Median price*
The first chart, with the numbers below, shows the median price for the two halves of the year and for the full year.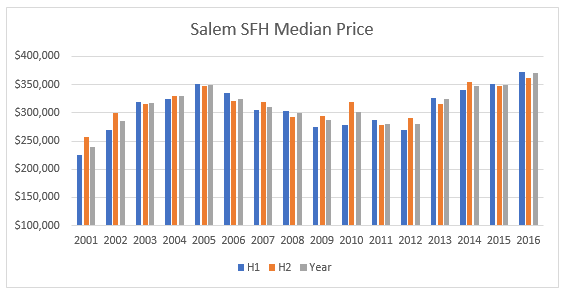 The quarterly numbers show how the market can vary from quarter to quarter: in the last 6 years the highest quarterly median price has been recorded twice in Q2, three times in Q3 and once in Q4.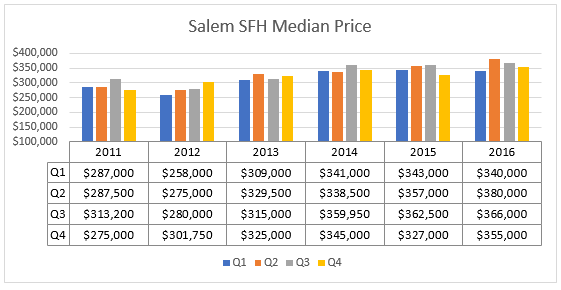 Sales
Sales jumped 16% to a new high.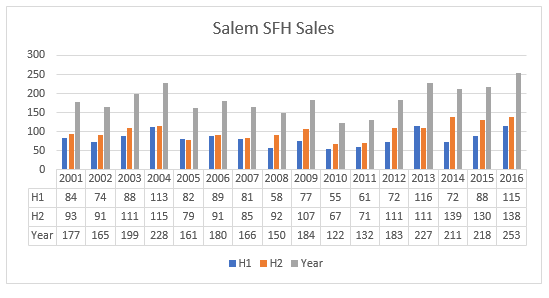 Sales by price
The table shows the breakdown in sales by price for the last four years.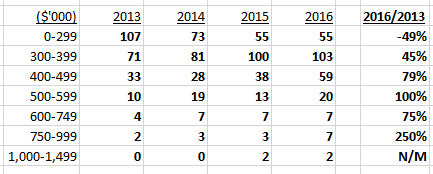 Not surprisingly, in a rising market, sales under $300,000 have dropped sharply with increases in all the higher price brackets.
Houses For Sale
The chart below demonstrates two things: the seasonality of supply, and the drop in SFHs for sale in 2015 and 2016 compared with 2014. The average monthly number of SFHs for sale dropped from 46 in 2014 to 32 in 2015 and to 30 in 2016.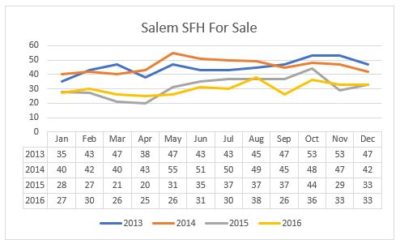 Assessed Value to Sales Ratio (ASR)
One way I measure prices is by the ratio (ASR) of Assessed Value (AV) to Sales Price (SP). The ASR is the AV divided by the SP: if the SP is rising (prices going up), the ASR will fall. In a period of rising prices the ASR is likely to be below 100%.
As we hope out properties are worth more than the AV an ASR below 100% as a positive sign. Remember that AVs are a lagging indicator: the tax bills that have just been sent out for FY2017 are based on actual sales in 2015. Thus the 2016 sales data, reported in this review, will be the basis for FY2018 assessments. And my data compares 2016 sales with AVs based upon 2015 prices.
Let's look at the ASR in recent years:
The ASR of 84.8% in 2016 suggests that the median SFH sold for about 18% more than its prior year Assessed Value, so expect Assessed Values to increase in FY 2018.
Outlook for 2017
Immediately after the Election I published What does the Election mean for real estate markets? in which I made the case:"The removal of a lot of strangling regulations and the end of gridlock in Congress will produce stronger economic growth. Major infrastructure spending will boost jobs and wages at the lower end, while lower corporate tax rates and lower personal tax rates will produce increased personal wealth. Interest rates will rise, reflecting the stronger economy, and the demand for housing will increase. Greater wealth and confidence will provide a boost to the higher end of the market."
I have no doubt that 2017 will provide many surprises along the way, but with a stronger economy and low supply of houses for sale, there seems little reason for home prices not to continue their steady upward movement.
Salem is an exciting city which is increasingly becoming a destination city, especially for young people. The housing market should continue to reflect that demand.
*In all my reports, I use total sales when reporting on sales, but exclude distressed sales – foreclosures and short sales – when computing median prices and ASRs.
Are you thinking of selling your home? If so please contact me on 617.834.8205 or Andrew.Oliver@SothebysRealty.com for a free market analysis and explanation of the outstanding marketing program I offer.
Not sure which broker to use to sell your home? Read  Which broker should I choose to sell my house?
If you are looking to buy, I will contact you immediately when a house that meets your needs is available. In this market you need to have somebody looking after your interests.
Andrew Oliver is a Realtor with Harborside Sotheby's International Realty. Each Office Is Independently Owned and Operated
@OliverReports