Solar roof tiles 2.0 – a major improvement
Just over a year ago I published Solar panels – are they right for you?, with a not very positive comment based largely upon their appearance.
As with many products, however, dramatic improvements seem to have been made and a recent Bloomberg video
No one saw Tesla's solar roof coming shows just how much. When Elon Musk of Tesla presented recently, the audience members were unaware that the homes showed had solar roofs.  "The interesting thing is that the houses you see around you are all solar houses," Musk said. "Did you notice?"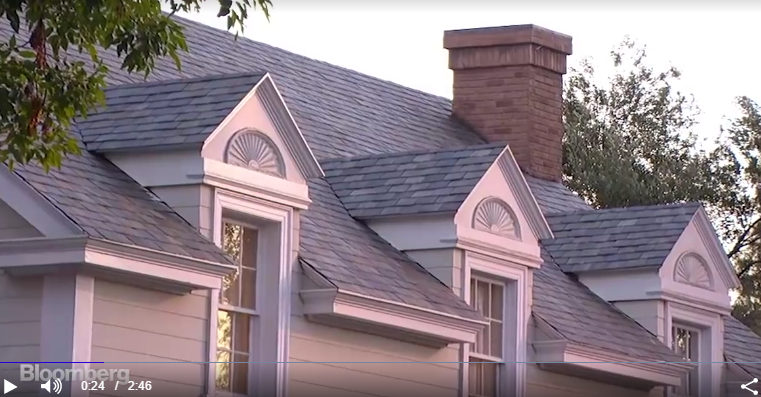 The roof tiles are actually made of textured glass. From most viewing angles, they look just like ordinary shingles, but they allow light to pass through from above onto a standard flat solar cell. Musk said the tiles are comparable to competing high-efficiency solar panels.
Lost in the excitement of the solar roof tiles was the announcement of Tesla's Powerwall 2, a major upgrade of its home battery for electricity storage. Version 2 packs more than twice the capacity—14 kilowatt hours versus 6.4 kilowatt hours—for a cheaper price after installation. 1 It includes a built-in Tesla-brand inverter and comes with a ten year, infinite-cycle warranty.
All in all, this looks like a major advance in the world of solar heating and power for the home. And that is exciting.
Are you considering selling your home? If so please contact me on 617.834.8205 or Andrew.Oliver@SothebysRealty.com for a free market analysis and explanation of the outstanding marketing program I offer.
Not sure which broker to use to sell your home? Read  Which broker should I choose to sell my house?
If you are looking to buy, I will contact you immediately when a house that meets your needs is available. In this market you need to have somebody looking after your interests.
Andrew Oliver is a Realtor with Harborside Sotheby's International Realty. Each Office Is Independently Owned and Operated
@OliverReports