Swampscott Q3 Report: Median Price nearing $600,000
[Click here to download a PDF of this report.]
The median price of the Single Family Homes (SFH) sold in Swampscott in the first 9 months of 2018 increased 11% to a new record $590,000, while the median condo price, boosted by the new Avery development, increased 19% to $359,000.
SFH Median Price
Through the first 9 months the median price is up 11% from a year ago and 22% from 2017.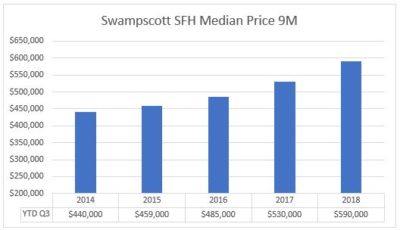 After 7 consecutive quarters when the median price exceeded $500,000, Q3 saw the first quarter above $600,000.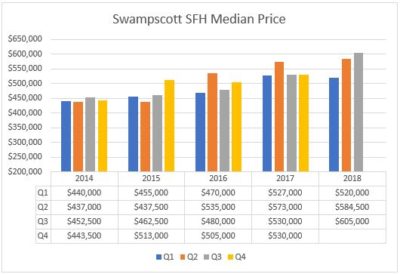 SFH Sales
Sales overall recovered somewhat from last year's drop. The impact of rising prices can be seen by the fact that the proportion of sales under $500,000 dropped from 54% in 2016 to 39% in 2017 and to just 27% in 2018.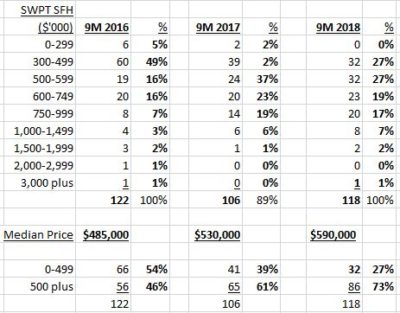 Reflecting strong demand and the shortage of inventory, half the sales YTD have taken place at or above list price.

SFH Inventory
As of October 1, overall inventory, while still very low, was quite consistent with the last two years in terms of supply at different price points.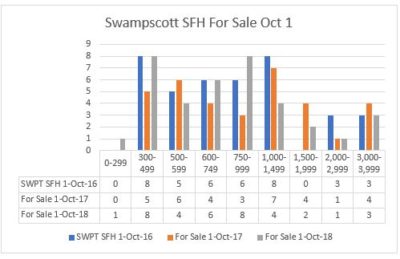 Condos
Traditionally, the condo market in Swampscott has been split between the older developments around Vinnin Squarer and newer, oceanfront units on Humphrey Street. That has changed somewhat with the new Avery development of 42 condominiums on Essex Street. In the first 9 months of 2018, 11 units were sold in Avery at prices between $370,000 and $500,000. These sales added some $27,000 to the median price YTD and contributed to the jump in sales over $350,000 from 20% of the total in 2016 to 52% in 2018.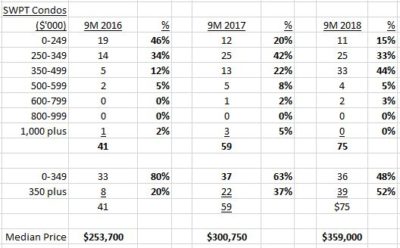 Reflecting strong demand, three-quarters of sales YTD have taken place at or above list price.

Comment
It took 15 years, until 2017, for the median SFH price to exceed the $517,300 recorded in 2015, but since then the median price has turned on the rocket boosters. The condo market has also seen strong demand, with the new development at Avery giving an upward thrust to the median price.
It remains to be seen if the recent jump in mortgage rates will serve to bring supply and demand more in line in the coming months.
Sagan Harborside Sotheby's International Realty
www.SaganHarborside.com
Sotheby's International Realty® is a registered trademark licensed to Sotheby's International Realty Affiliates LLC. Each Office Is Independently Owned and Operated