Swampscott Q1 2021 Housing Market Review
1. The median price of the SFHs sold in Q1 2021 increased 5.6% to $599,000, but this compared with $630,000 for the whole of 2020.
2. Without sales at Fisherman's Watch – which occurred in Q1 2020 at prices between $724,900 and $1.25 million -the median price of the Condos sold dropped back to $415,000, more in line with the figure from Q2 to Q4 in 2020.
3. SFH sales have been volatile in the last 3 years: 14 in Q1 2019, 30 in 2020 and back to 15 in Q1 2021. Condo sales ticked up from 16 to 17, but with a very different mix.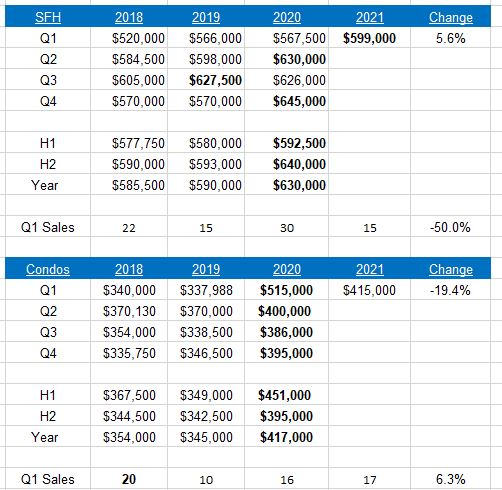 For a more detailed report on the market in Q1 go to Team Harborside's website and read: Swampscott Q1 Market Review
Buyers are overpaying, but are there signs of a bubble?
Goodbye sub 3% mortgages
"Party on, dude" says the Federal Reserve
Essex County 2021 Residential Property Tax Rates: Town by Town guide
It's 80 degrees in Florida….
Andrew Oliver
Market Analyst | Team Harborside | teamharborside.com
REALTOR®
Sagan Harborside Sotheby's International Realty
One Essex Street | Marblehead, MA 01945
m 617.834.8205
www.OliverReportsMA.com
Andrew.Oliver@SothebysRealty.com
Sotheby's International Realty® is a registered trademark licensed to Sotheby's International Realty Affiliates LLC. Each Office Is Independently Owned and Operated
"If you're interested in Marblehead, you have to visit the blog of Mr. Andrew Oliver, author and curator of OliverReports.com. He's assembled the most comprehensive analysis of Essex County we know of with market data and trends going back decades. It's a great starting point for those looking in the towns of Marblehead, Salem, Beverly, Lynn and Swampscott."
Andrew Oliver
Sales Associate | Market Analyst | DomainRealty.com
Naples, Bonita Springs and Fort Myers
Andrew.Oliver@DomainRealtySales.com
m. 617.834.8205
www.AndrewOliverRealtor.com
www.OliverReportsFL.com