Are you thinking of selling in Marblehead?
With prices at record levels (the median price of the SFHs sold in Q3 was a staggering $846,000) and inventory at record lows, now is a great time to sell.
Here is the inventory by price compared with a year ago: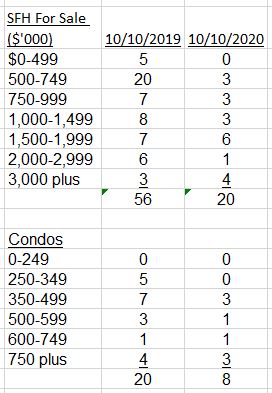 With buyers still actively seeking homes, the shortage of inventory makes this an ideal time to sell.
Team Harborside is the leading North Shore group. Please contact me to arrange a meeting with our team to discuss the options for selling your property.
Andrew Oliver
Market Analyst | Team Harborside | teamharborside.com
REALTOR®
Sagan Harborside Sotheby's International Realty
One Essex Street | Marblehead, MA 01945
m 617.834.8205
www.OliverReports.com
Andrew.Oliver@SothebysRealty.com
Sotheby's International Realty® is a registered trademark licensed to Sotheby's International Realty Affiliates LLC. Each Office Is Independently Owned and Operated
"If you're interested in Marblehead, you have to visit the blog of Mr. Andrew Oliver, author and curator of OliverReports.com. He's assembled the most comprehensive analysis of Essex County we know of with market data and trends going back decades. It's a great starting point for those looking in the towns of Marblehead, Salem, Beverly, Lynn and Swampscott."